It is the smallest village (0.1206 square kilometers) and among the most picturesque in Italy. In Atrani on Amalfi Coast every glimpse is a voyage of discovery among spectacular perspectives or corners decorated with Roman and medieval columns and capitals dating back to the 12th-13th centuries.
While religious life took place in nearby Amalfi between the 10th and 11th centuries, Atrani was the nobility's political stage and residential core. Evidence of this rich past is still reflected in the tower houses, which feature overlapping floors, each with a gallery adorned with cross vaults and small columns topped by crutch capitals.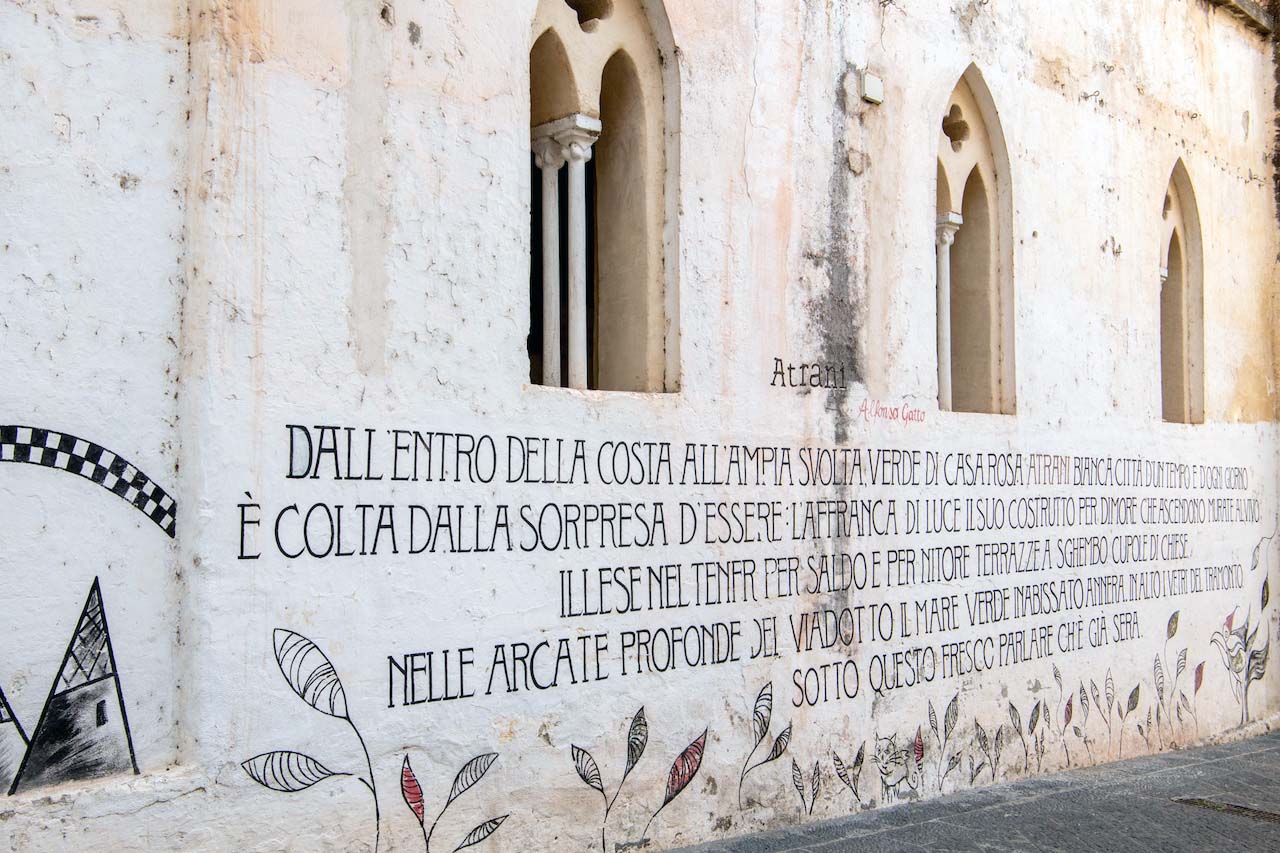 Piazza Umberto I in Atrani
The nerve center of the slow-moving life here is Piazza Umberto I, the main square, where both summer and winter residents meet for an aperitif. Sitting in one of the little bars in this small square, one sips a must-have of the Atranese happy hour, the lemon spritz made with Sfusato Amalfitano, the yellow gold of the Amalfi Coast.
Piazza Umberto I, moreover, is the best spot to observe and be enchanted by the thousand-year-old charm of the Church of San Salvatore de Birecto, whose bell tower incessantly marks the hours of the day. Founded in the 10th century, the church is among the oldest monuments of the Amalfi Coast's cultural and spiritual heritage. It is said that the Duke of Amalfi's investiture ceremony occurred here.
Maurits Cornelis Escher
Enclosed to the east by Mount Civita and to the west by Mount Aureo, the fusion of nature and man typical of this village was an inspiration for some essential artists of the 20th century, in particular, Maurits Cornelis Escher, who, during his stay on the coast around the 1930s loved Atrani for its magical atmosphere. The symmetry, the repetition of forms, and the dizzying leaps from light to shadow typical of Atrani's spatial architecture would be the building blocks of the famous Escher's Metamorphoses created between 1930 and 1934, where impossible spaces interpenetrate into the basic settings of the village.
---
Tourist Information Office Amalfi Coast Tourist District

via G. Capriglione, 116 B
84010 Praiano [Salerno, Italy]
Opening hours until April 30th from Monday to Saturday (Sundays and holidays closed) 9.30 am : 1.30 pm | 4.30 pm : 8.30 pm
Opening hours from 1st May to 30th September from Monday to Saturday (Sundays and holidays closed) 9.00 am : 1.00 pm | 5.00 pm : 9.00 pm
Tourist Information Manager
Rosalba Irace
infopoint@distrettocostadamalfi.it | +39 089 874557 – +39 342 0602674
---
The map of Atrani on Amalfi Coast