This innovative technology can be the right choice for tourists and residents to protect our natural heritage.
December 3rd, 2020. By Priscilla Santos da Silva
---
SS163, also known as the Amalfitana, connects cities on the Amalfi Coast for about 47 km (around 29 miles). Every year, especially during the summer months, many cars drive along this road, causing a significant impact on the environment.
Rete Sviluppo Turistico Costa D'Amalfi, a network of local tourism businesses, in collaboration with INVITALIA (National Agency for Inward Investment and Economic Development), launched a project focused on sustainable mobility; a way to promote electric vehicles to safeguard the world we live in.
1. Charging stations
DriWe, together with EV2GO, a group of professionals and businesses specializing in green mobility, designed a plan to bring twenty new charging stations in the fourteen municipalities of the Amalfi Coast Tourist District. They were already able to place five charging stations since the project's launch, and they expect to have another ten installed in various places around the coast during 2021.
All you need to do to enjoy this service is download Nextcharge, an app that, thanks to geolocation, can show you the nearest station for your electric vehicle. «This is also helpful for local business, » says Andrea Ferraioli, President of the Distretto Turistico Costa d'Amalfi and the Hotel Margherita's owner in Praiano.
Ferraioli has always been sensitive to environmental issues. He was one of the first to promote in 2012 electric bicycles, and in 2014 he had an electric car for his personal use. He decided in 2016 to go further and combine this lifestyle with his business: this is why he bought an 8-seater electric van to drive the guests of his hotel to Marina di Praia, the famous beach of Praiano.
2. Sustainability is the key
Electric cars are the perfect fit for the Amalfi Coast, according to Giuseppe Guicciardi, CEO of EV2GO. Providing electric vehicles could improve companies looking for a new brand image and want to show the world that they care for the environment and want to commit to reducing C02 emissions.
«I think it is an innovation profoundly linked to geographical needs. We see every passing year that it is possible to reduce pollution thanks to these alternatives. Hopefully, it will be easier to choose green».
Electric vehicles reduce the environmental impact (reaching almost zero), they are cost-saving, and even their aesthetic has gotten better in recent years. «Nowadays, we have various designs on the car market. Just think of the new electric Fiat 500, an icon of the Italian tradition, that just in a week saw more than 12 thousand requests».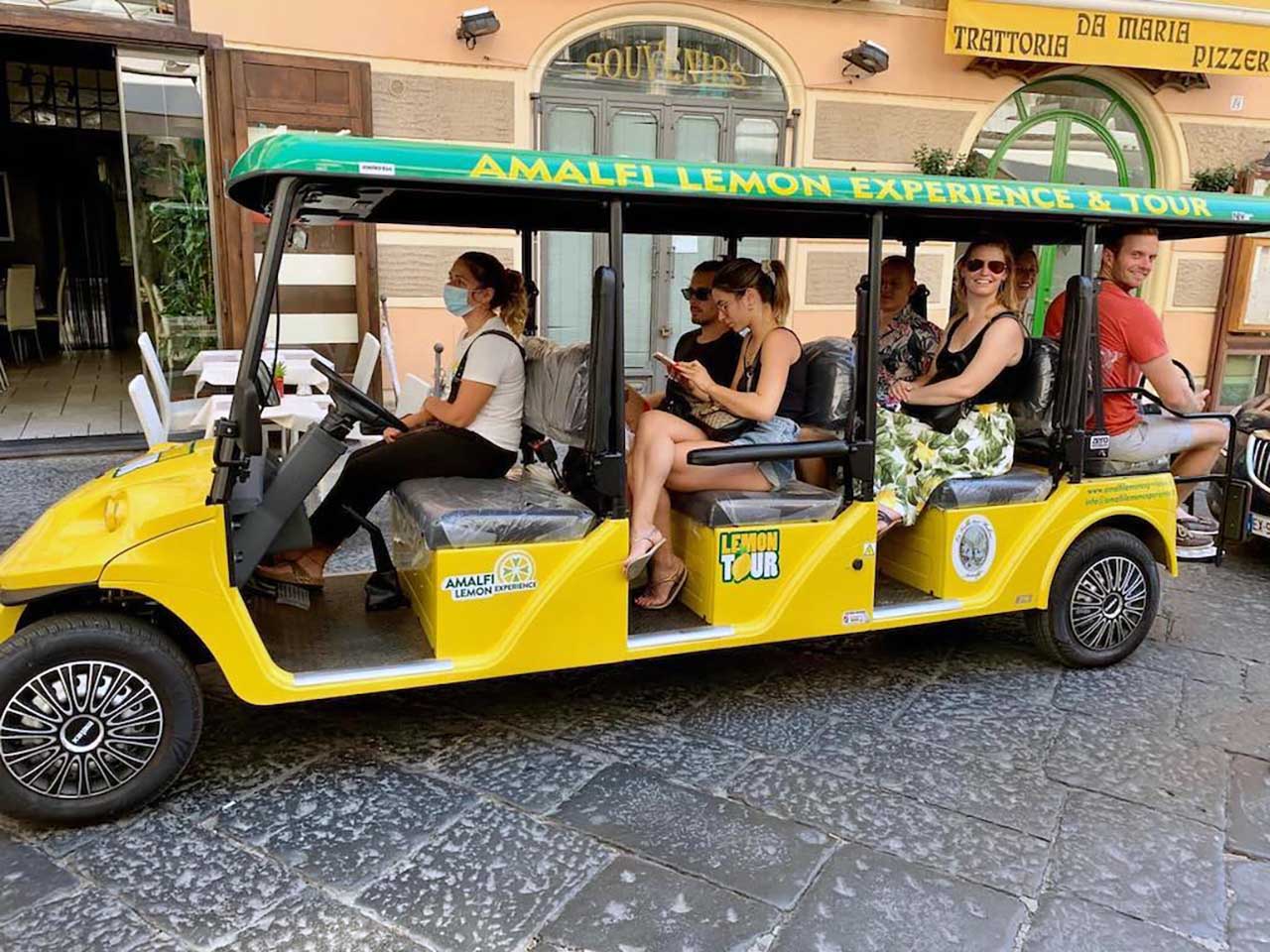 3. Cost-saving
According to the research on the Italian e-mobility made by the Polytechnic University of Milan (Politecnico di Milano) in collaboration with Enel X, driving for 100 Km with a classic car costs 9,6 euros in oil. In contrast, with an electric vehicle, the cost is reduced to 2,58 euros.
4. Incentives
For those who are thinking about purchasing an electric car, local incentives can provide the solution. As stated by the Italian Law Decree, known as the "relaunch decree," Italy plans a 25 billion euros investment to relaunch the economy.
Following the Decree from August, the plan is to allocate 410 thousand of the total amount to encourage the purchase of electric, plug-in hybrid, and C02 emissions that don't exceed 110 g/Km. Additionally, another 90 thousand euros will be used to create charging stations.
5. Easier to move
Electric cars can even enter the ZTL areas (restricted traffic zones) in Salerno's province, allowing people to drive around the cities of the Amalfi Coast without worrying about particular restrictions. That means going through the old city center by car and being able to park freely in the designated blue areas: a great benefit for everyone, tourists and locals.
Salvatore Aceto, owner of the agriculture business named after him, in 2010 he bought an electric golf cart to quickly move his products around Amalfi's city. With time, the Aceto family noticed that they had reduced their environmental impact and consumption, so they decided to have two other electric cars available for their famous Amalfi Lemon Tour.