Launched last August, Plaghia Charter's new project combines innovation, technology, and elegance, focusing on the environment's well-being.
September 13th, 2022. By Anna Volpicelli
---
A more sustainable Amalfi Coast. It is the imperative and mission of all local tourism operators. A need stems from the ever-increasing urgency to safeguard a fragile and delicate territory. And it is with this intention that Plaghia Charter, a luxury boat rental company based in Praiano, has launched Ecolux 850 Hybrid, the first electric boat intended for mini-cruises along the Amalfi Coast.
Founded in 2003, the company boasts a whole fleet of gulets, goiters, yachts, speedboats, and small boats, each offering a 'unique experience. With the new electric boat, the founders of Plaghia Charter have decided to increase the quality of services provided, focusing on the environment's well-being with elegance. Ecolux 850 Hybrid bears the signature of Fausto Colombi, pioneer of Italian electric boating, founder of Cantieri di Sarnico, and former plant manager of Cantieri Riva.
The project combines technology, innovation, refined design with comfortable chaise longues, and extensive use of mahogany that can accommodate up to 10 guests. We met with Alberto Esposito, shipowner, who has been working on Plaghia Charter since its founding year, to learn more.
How did the idea of creating an electric boat come about?
Buying a hybrid unit was born to bring the company in line with ecological standards and counter the high fuel prices.
How does it work?
The unit sails use both the endothermic engine and the electric motor.
How is it recharged?
The electric motor is recharged using the designated charging stations in port areas or by a drag motion of the endothermic engine.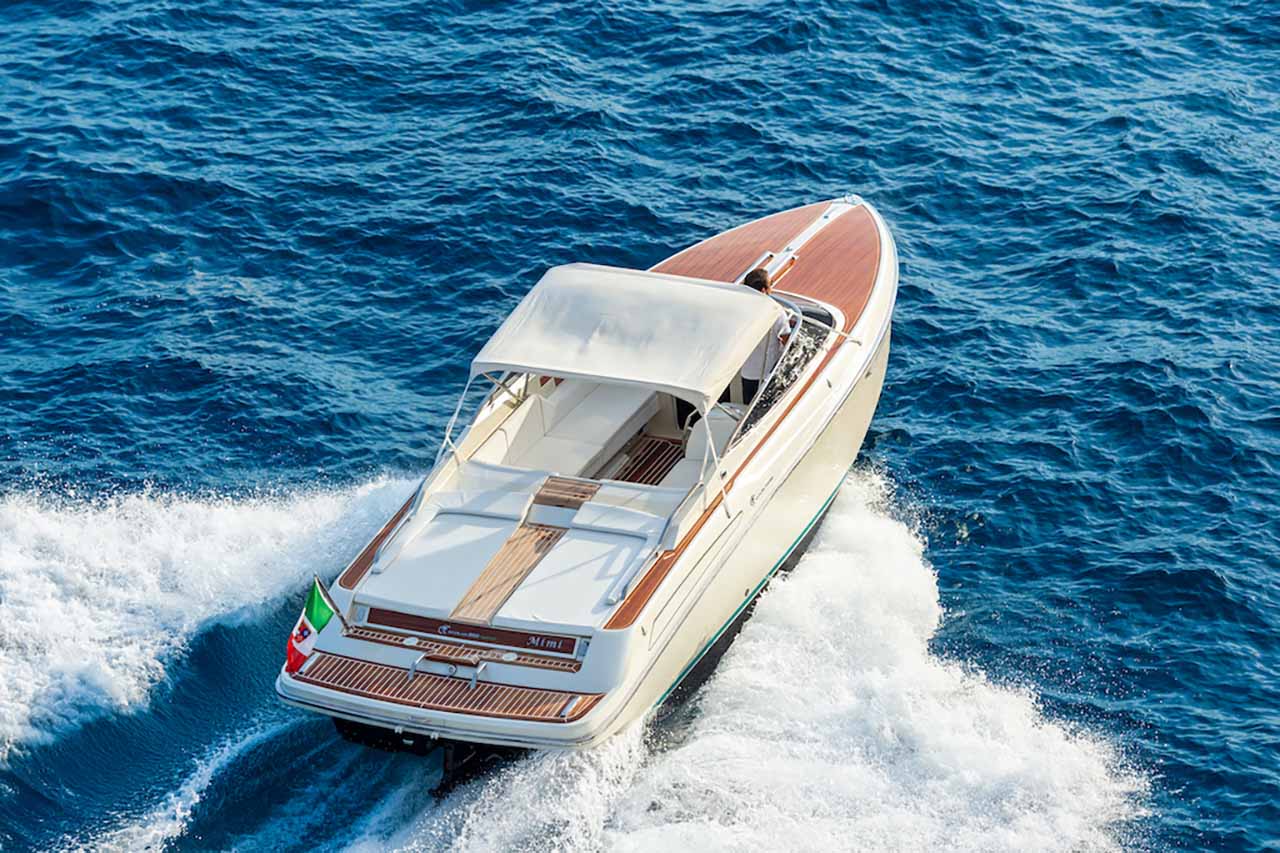 What will be the environmental benefit?
At the moment, we cannot estimate the environmental benefit. Using it for at least two summer periods is necessary to make a less approximate calculation. Indeed, the hours when the vessel is used in electric mode are critical for fuel economy.
Do you need different skills to run such a boat?
The boat does not require any special skills to drive it. However, the person in charge of the ship must pay attention to all the instrumentation on board as it continuously provides information on the endothermic and electric motors.
What were the difficulties encountered along the way?
Initially, we had to learn a new navigation method due to the many unique features on board. We only had some problems recharging the batteries using columns, as in the municipality of Praiano (where we are based), they are not present for marine units but only for cars.
Do you have plans to create new ones?
We intend to make more, but we need the charging stations to be developed in all port areas of the Amalfi Coast.