Avellinese by origin, Praianese by adoption, the artist reveals the meaning of true beauty through his sculptures.
February 25th, 2021. By Anna Volpicelli, photo by Imma Tralli
---
After a day of work, Carmela is tired. Her soft, enveloping body lets go on the table. Her strong arms become the pillow on which she rests her head and surrenders to a night of deep sleep. She spent her day cooking at Armandino's, the famous restaurant in Praiano, and probably in the evening, when her service was over, she did not have the strength to cook something for herself.
"The women I create," Paolo Sandulli, artist, tells us, "embody a typical Mediterranean beauty. They are women with wide hips, plump feet, and somewhat chubby arms. They are symbols of femininity and fertility. They are the keepers of life, the only ones capable of giving it. Some are born from my encounters, like Carmela, a mother, a wife, and a worker; others are born from everyday glances."
In the eyes of the fisherman
Born in Avellino in 1949, Sandulli has long searched for the meaning of art, of being an artist, for techniques, moving from painting to ceramics to sculpture, and for true beauty. After training between Rome, and Faenza, a la Ruche in Paris, Praiano became his permanent home.
"My living has profoundly influenced my conception of beauty on the Amalfi Coast." A concept shaped and told by Sandulli that goes beyond classical aesthetic canons. It is a beauty that emerges from a deep sense of self and awareness of one's identity, like the fisherman portrayed in one of his works. The wrinkles, facial expressions, and skin dryness are caused by the sun. "Of course, he is not Marlon Brando, but his being beautiful comes from self-awareness."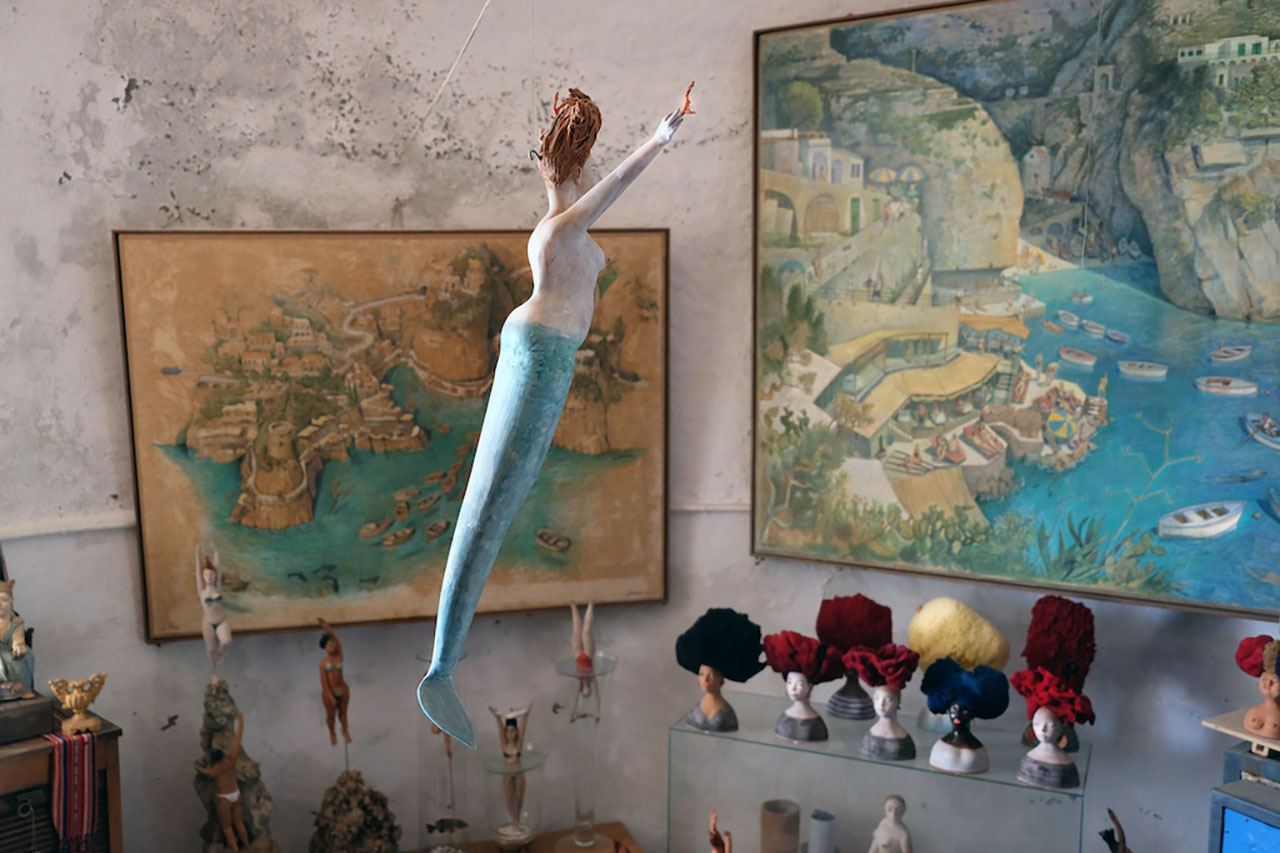 Art as a path to change
In an age where the image is everything, where the sense of self is based on selfies taken for social media, aimed at immediate pleasure and attracting followers' attention, the images Sandulli gives us move in an opposite direction: they invite us to stop and observe.
"The artistic figure is often not immediate but needs time to arouse pleasure. It is an image that creates doubt because art questions you and invites you to change yourself a little. I think it is essential today to recover this sensitivity, this ability to look beyond the first appearance. To build an intimate relationship with the work before us, to establish a sensual complicity, a brotherhood."
Praiano, the place of emotions
The relationship with the Amalfi Coast began to blossom in 1965 when the artist began spending months at a time in Praiano at the family home. "Praiano has always been a refuge, a place where I can get in touch with my emotions, and above all, where I can devote time to my art. I am very attached to the Amalfi Coast because it allowed me to become the man and artist I am today."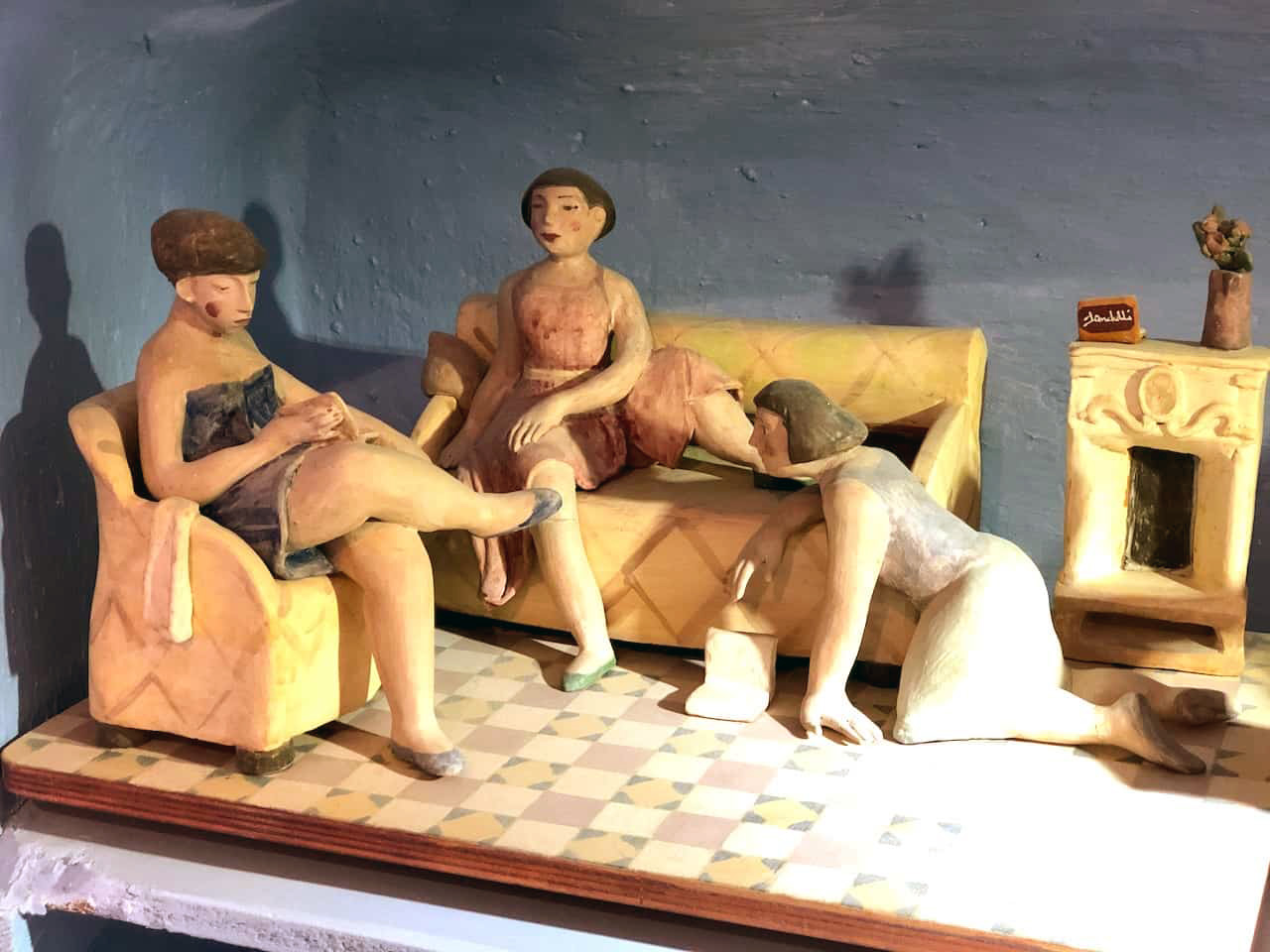 A look at everyday life
And his works all convey this intense, almost visceral connection. "Each of my creations is the result of a story of daily life lived here. The faces of the people I meet become the protagonists of my works. Everything I make always starts from a life story. My work intends to guide people to look at something they have before their eyes every day, but maybe they no longer see it because they have lost that childlike magic where everything is a wonder. For years my poetic narrative has been revealing something that happens between the Amalfi Coast, a world of fishermen and farmers, and the arrival of tourism."
The international comparison
In the late 1960s, the Amalfi Coast was a crossroads for artists worldwide who spent much of the year here. "The Coast has always been where you can meet extraordinary people. And I, who came from a small province, finally had the chance to engage with artists with whom I established a deep dialogue, to whom I could show my paintings and talk to them about art."
And it was thanks to these summer meetings that Sandulli could win a scholarship to go to Paris. "Between 968 and 1971, international painters would come to Praiano, mostly French and Spanish, who, besides painting, played tennis. I was very good at it. And a Frenchman told me to go to Paris to teach them how to play. Of course, I didn't have the financial possibilities to do that, so they helped me win the scholarship." The memory of that moment and her passion for tennis is now carried in a sculpture in which four women with rackets in hand enjoy playing together on a tennis court.
The Paris experience
In 1974 at 25, Sandulli moved to La Ruche Paris, where he could work and live in the residence studio that hosted artists including Chagall, Soutine, Archipenko, and Viani. "At that time, I focused only on painting and was fortunate enough to exhibit my work in several Parisian galleries."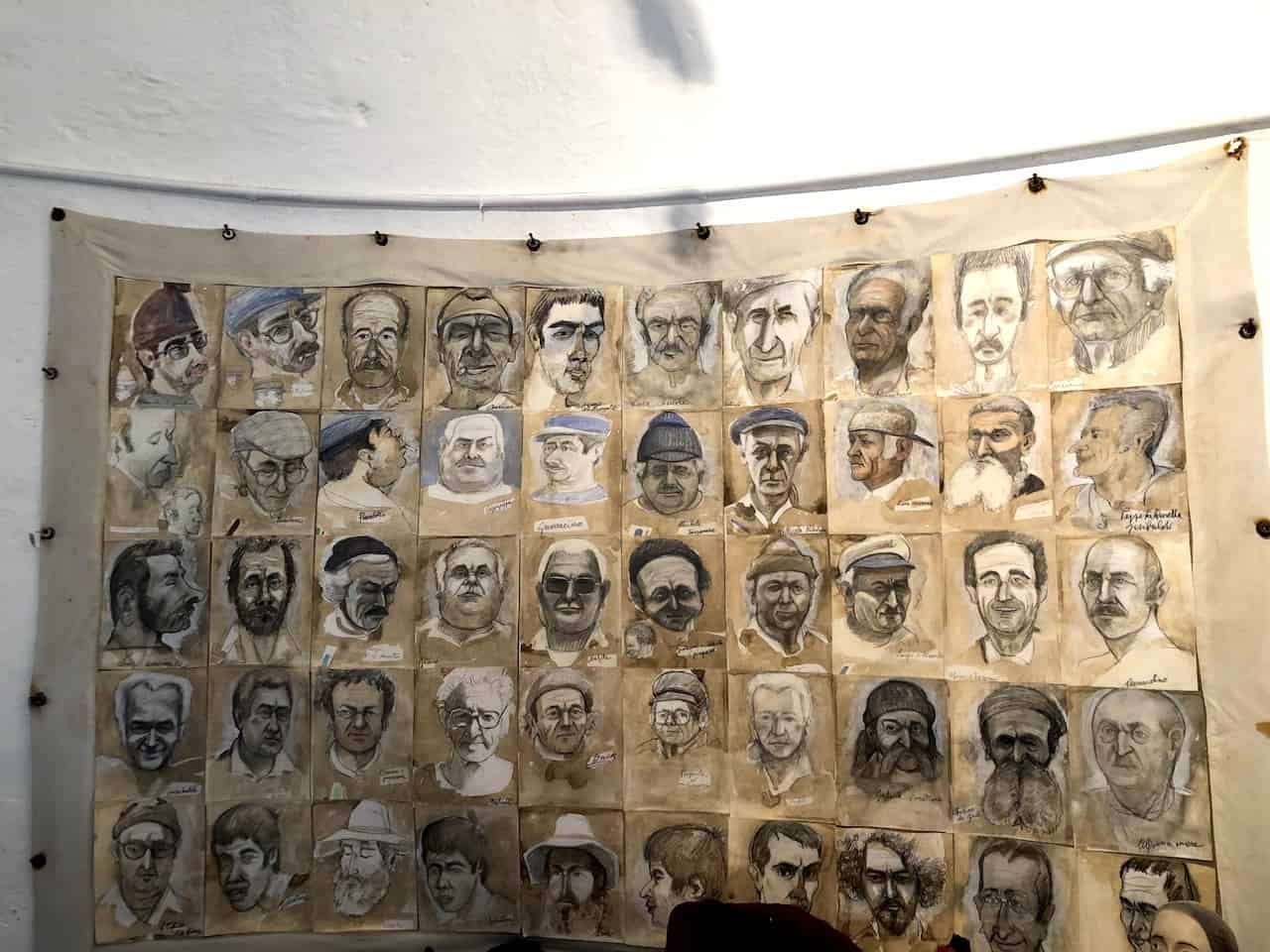 New friends
Back in Italy, after five years of living in France, after a painful divorce, he moved permanently from Avellino to Praiano. "For me, it was a traumatizing event. I also had a 6-year-old daughter, so it was lacerating. Praiano healed my wounds. I got to know incredible people, like Luca, owner of the Africana. He was a kind of Apache, a straightforward man who had a great sense of hospitality. The Coast was made by these kinds of men, like Carlino from the hotel Il San Pietro in Positano, another great friend. He always seemed to be waiting for you when you visited him."
Luca, Carlino, and others are pictured in Sandulli's studio today. On a large wall, a series of portraits placed next to each other, like mosaic pieces, honor the people Sandulli met along his journey and for whom he feels great gratitude.
The encounter with ceramics
Praiano was also where Sandulli had his first contact with the clay. "I had never worked with clay, but living here, I became close friends with Antonio Franchini, a famous potter in the area. It was he who taught me the techniques of pottery. Then with time alone, he began to add the volumes and three-dimensionality that I could not with painting."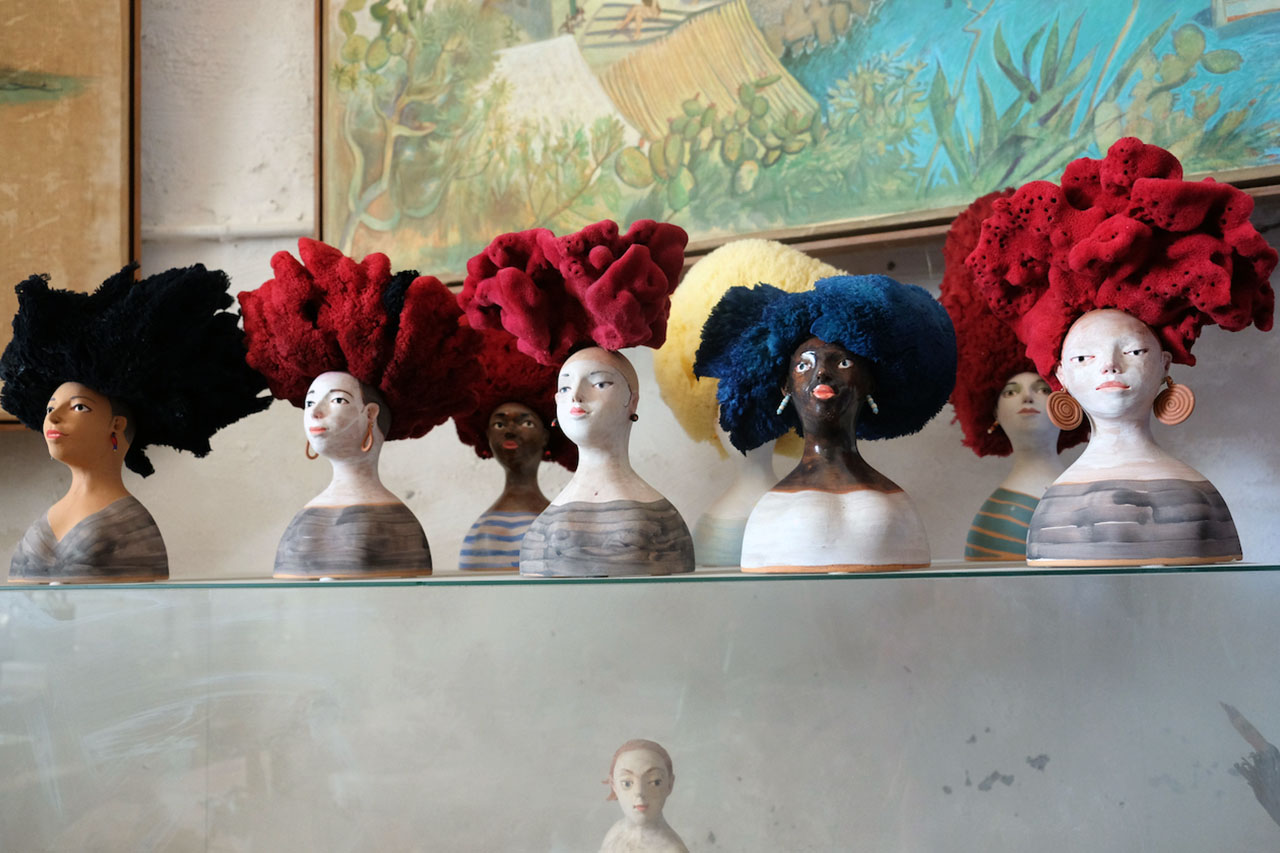 Queens of the Sea
His study of form, contact with the material, and meeting a woman led him to shape the Queens of the Sea collection, terracotta female busts crowned with multicolored sponges. "The series is my tribute to Eleanor of Aragon (daughter of the King of Naples, ed.) whom I saw in Palermo portrayed in Francesco Laurana's work. Her beauty bewitched me, and I told myself I had to make precious young ladies queens of the sea."
Arranged side by side, these young ladies express unique characters and personalities. Like the inspiring muse, each has eyelids that seem almost half-open. "I had the idea for the headdress with Luca, he was the one who helped me find the sponges, and when I put them on the heads of my young ladies, we were both stunned. We had achieved perfection. These women were talking to us."
A sense of gratitude
Over time, the Sea Queens became his signature. "I see my daughter, Giuliana, and my mother in many of them. But the female universe represented by Sandulli is so much more. Just look at the mermaids floating in the water, which the artist associates with the dynamism of Mina, his companion, the sisters chatting in the living room, and the woman reading a book from the comfort of her chair. About to leave Torre d'Asciola, which Sandulli identifies as a protective mother, the artist is ready to embark on a new adventure. "I would like to create a series of workshops for tourists and people who want to learn. It would be a way to return some of my gratitude to this land."