International artists turned the village into an open-air museum thanks to the first edition of the event "Muri in cerca d'autore"
January 21st, 2021. By Raffaele Ferraioli
---
In the 80s, rainbow colors started to appear on the walls around Furor's vertical village. That happened thanks to Katia Salvini, Gazzetta's journalist, who came from Parma to participate in one of the first editions of the forum, "Muri in Cerca d'Autore" (walls seeking authors), and it was love at first sight. In honor of Furore, she created a logo representing a beautiful rainbow accompanied by the caption "Furore Paese dipinto," which means Furore the painted village. Then Franco Mora, a painter from Mantova who was also at this event, decided to replicate her work on a house wall where it can still be seen today. This is how a symbol that became, with time, a successful way of branding Furore was born.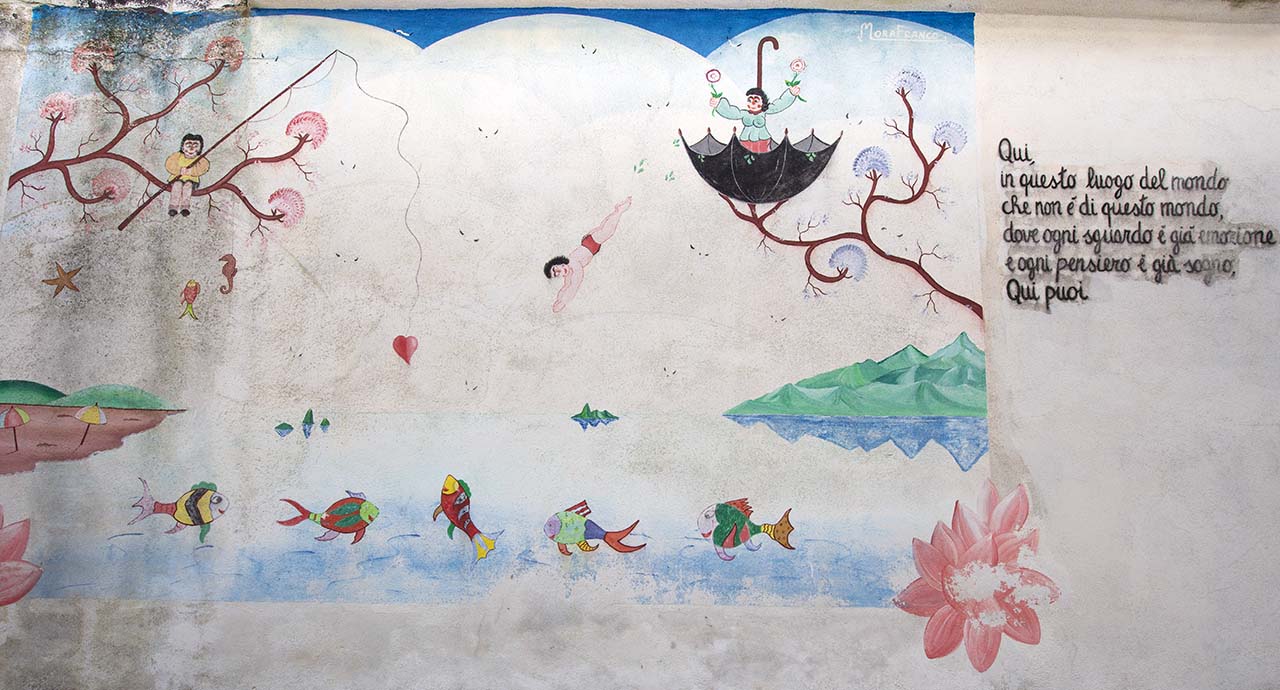 Out of the anonymity
The project started thanks to three brothers' artworks from Naples: the painters Rosario and Elio Mazzella, and Luigi Mazzella, a sculptor. Thanks to them, it was also possible to have the support of Nino D'Antonio, a writer, journalist, and honorary citizen of Furore. During a conversation in front of the fireplace, we had the idea to draw the story of Furore. We felt that choosing the mural art would have made an impact.
Furore is a type of village that almost hides shyly from tourists' gaze, which, added to its composition of scattered houses, never helped it be recognized as a touristic place on the very competitive coast of Amalfi. Despite the lack of appropriate economic resources, people welcomed this idea of unveiling Furore with great enthusiasm.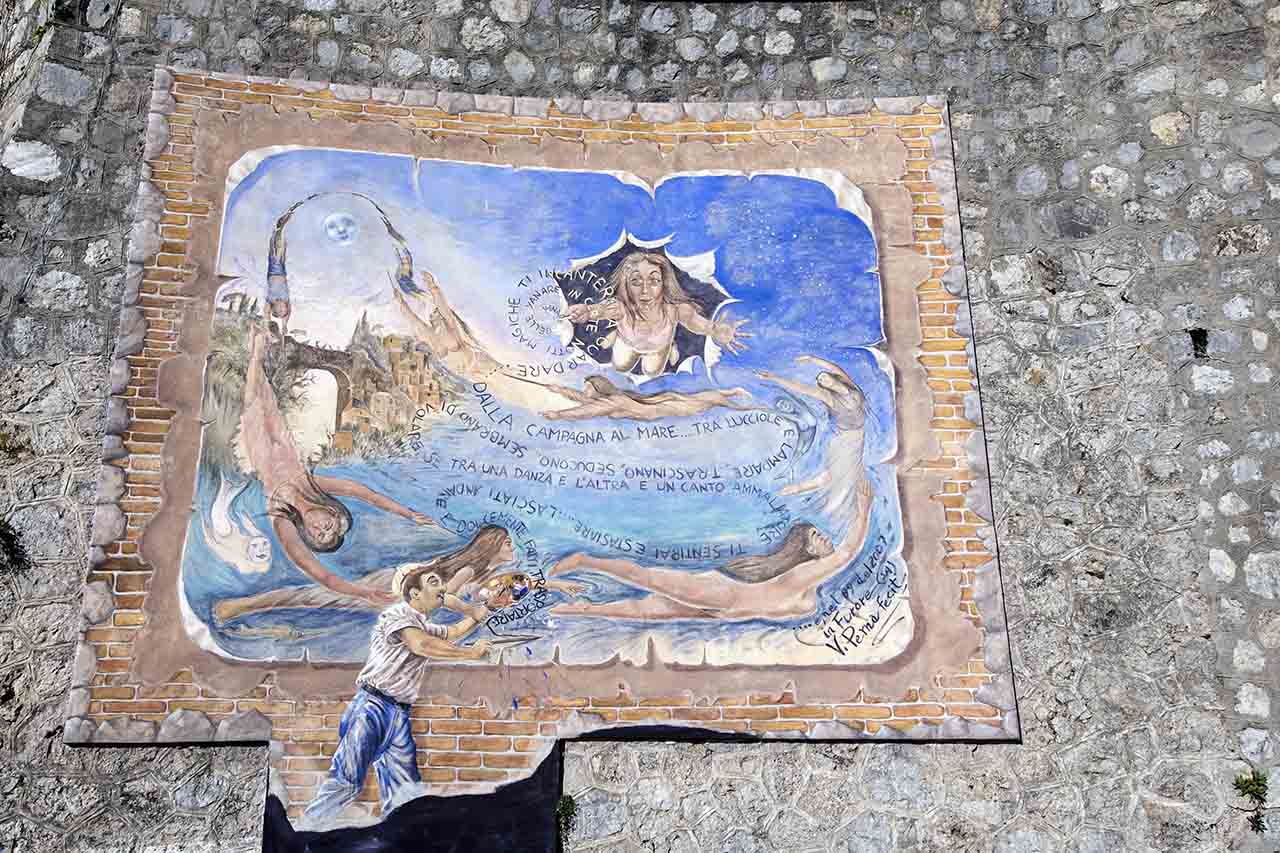 An international art residency
Various artists, not only from Italy but from all over the world, followed the path laid out by the Mazzella brothers. Here we will name a few of them: Salvo Caramagno from Sicily, the poet-painter Antonello Leone, the sculptor from Como Carla Crosio, the Mexican artist Marc Lopez Bernal, Carla Viparelli from Naples, Silvano Peruzzi from Mantova, the polish Christian Wotrowa, the sculptor Raffaele Di Meglio from Ischia, Pippo Borello from Verona, Goffredo Good, the german Fritz Glow, the Brazilian Klenia Sanches, Carlo Fayer, Antonio Oliveri del Castillo and so on. They would come here on their own accord at that time, working for a free while hosted by Hostaria di Bacco, the famous hotel in Furore. Today we have around a hundred artists involved in this project.
Associazione Italiana dei Paesi Dipinti
With a prior agreement between the President of the Azienda di Promozione Turistica del Varesotto and me, in the May of 1994, the Associazione Italiana dei Paesi Dipinti (ASSIPAD – Italian Association of the Painted Villages ) was born. My friend Redaelli was the president of this Italian association of painted towns for the first five years after its creation. Then I took the role of the following five. Around thirty municipalities from different parts of Italy joined us.
Here I'll mention a few: Etroubles from Aosta Valley, Torre Canavese, Bagnasco, Mortiglienco in Piedmont, Riomaggiore, Valloria di Prelà in Liguria, Olona, Albaredo in Lombardy, Dozza, Argenta and Alfonsine in Romagna, Cibiana di Cadore in Veneto, Calvi dell'Umbria, Cervara in Rome, Frasso Telesino, Lauro di Nola in Campania, Diamante and Fuscaldo in Calabria, Orgosolo and San Sperate in Sardinia. In the initial phase of our project, we were flooded with enthusiasm, and ASSIPAD successfully attracted all institutions' interest, becoming one of the most popular organizations. We immediately put in the work focusing on marketing and promotion: for example, the publication of promotional material and the arrangement of exhibitions and press conferences in Italy and abroad.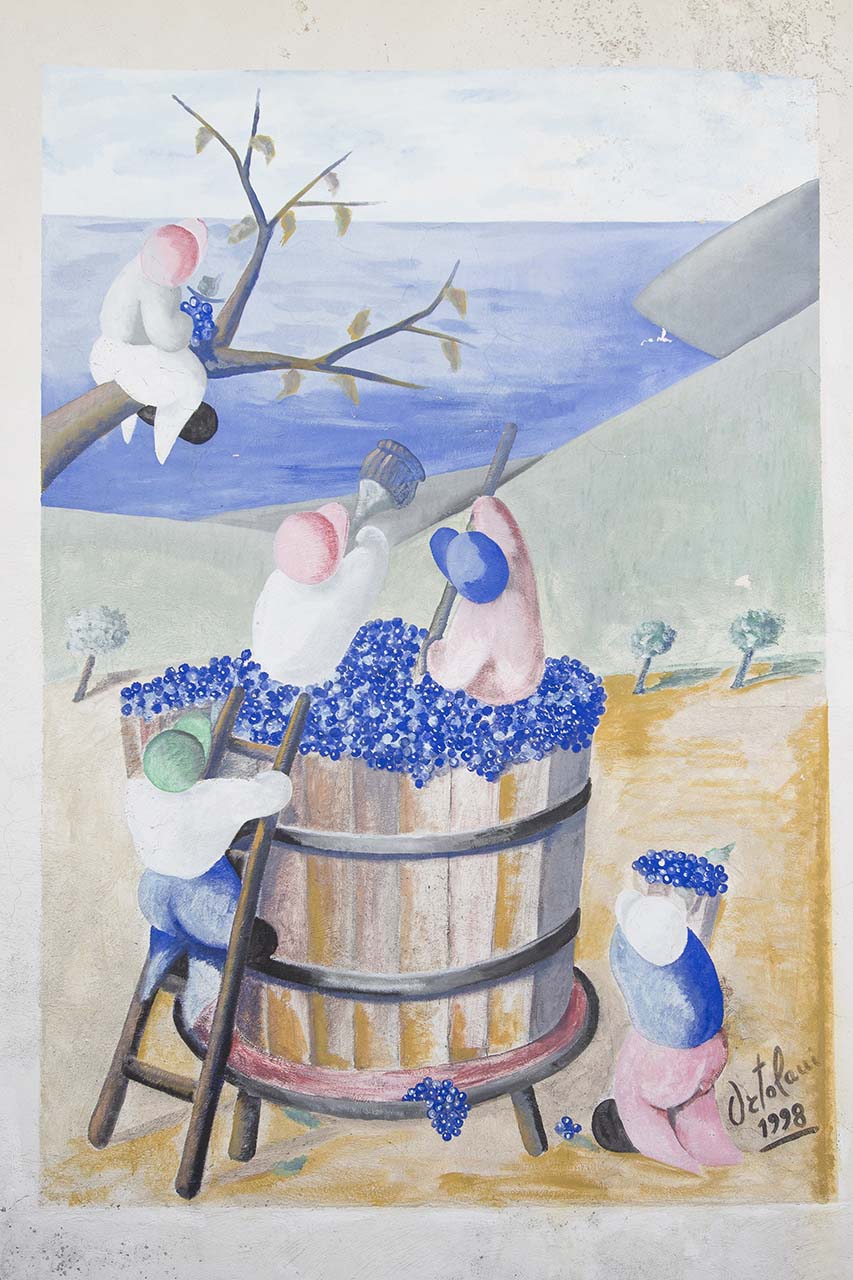 The dilemma over the renovation
Despite all of our efforts and achieving essential goals, we had to face reality that, year after year, the municipalities kept losing interest in the project until it was long gone. The project gave all the results we had hoped for during the full activity, but it is tough to keep going without financial resources.
The main concern for the Paesi Dipinti is the maintenance of artworks. So let me introduce the old dilemma: is it better to renovate or to redo? Since, with time, artists leave us, remodeling is complicated. But if we accept that the nature of this kind of art is temporary, erasing and redoing seems like the best option. The first pioneers, Siqueiros, Rivera, and Orozco, considered these wall decorations more a medium of social criticism than mere art. I do believe that this is the way we should still feel it.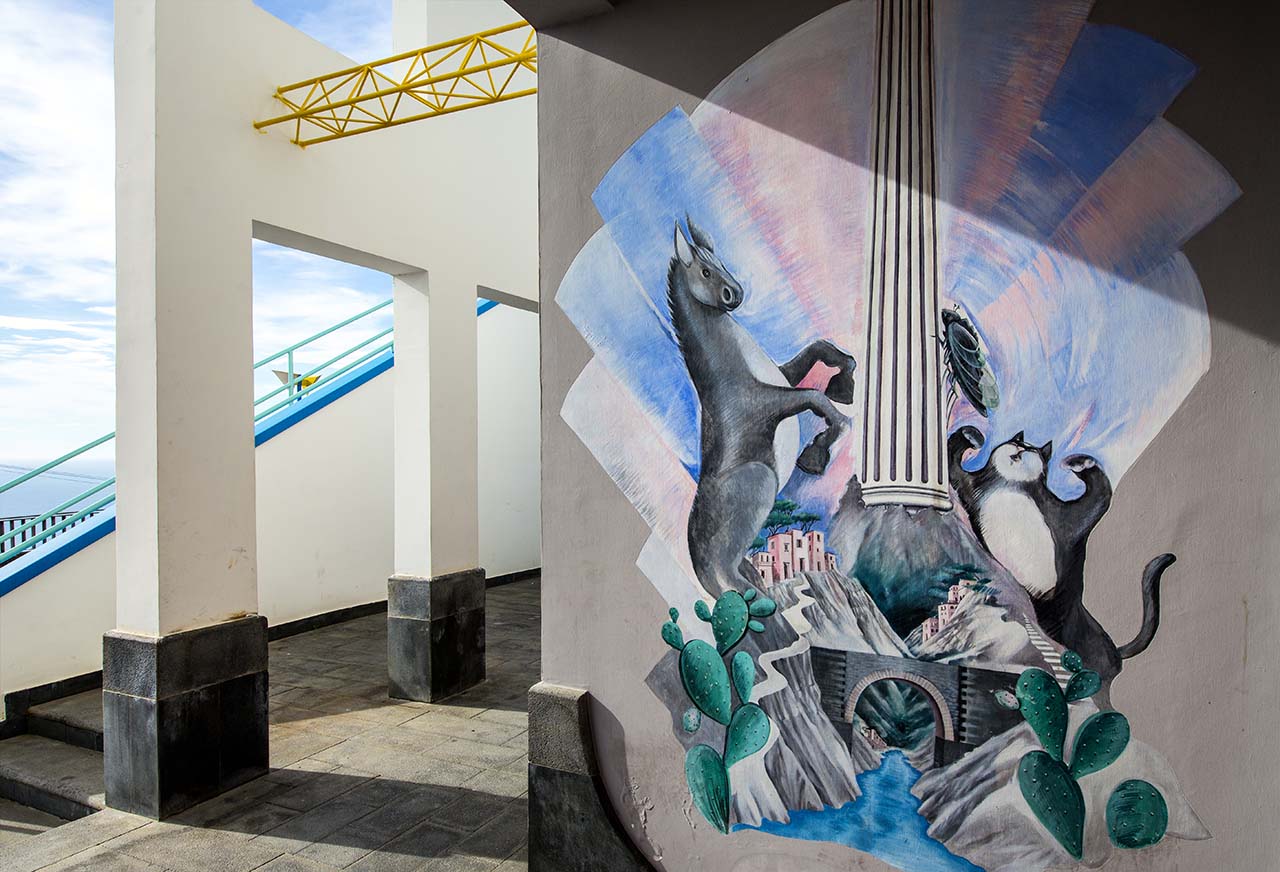 Between dreams and reality
Furore's murals helped to revisit the village's history while at the same time showing it to the world. This precious open-air art gallery earned its place in the hearts of the people who live here and even helped businesses struggling with appearance express their identity clearly. In these walls, you will find stories, myths, and tales of the Terra Furoris filled with strong emotions, and I must say that in some of them, the distinction between reality and fiction is blurred. But someone would argue that truth is boring while make-believe is more appealing.
Even so, there is something that's out of the question: when a person casts a gaze to these murals, they are carried away in a world of fantasy where the difference between what is real and what's not is not only impossible to find out but also, quite frankly, meaningless. So what does Furore look like today? The painted village stands fierce, showing captivating sceneries with sculptures, houses with murals painted on the walls, and all around the colors of the beautiful sea and sky shades. And, even if time passes by, Furore keeps seducing and charming everyone.