From beer to spirits: alternative ways of narrating local botanicals flavor and lemons 
February 9th, 2021. By Antonella Florio, cover photo by Snapwire
---
Research, authenticity, and love for the territory. These are the intangible ingredients three young entrepreneurs of the Amalfi Coast use to produce gins and beers with a high local vocation. They have in common the idea that culture and territory enhancement can also pass through the glass.
Melphi's beer: the local flavor
Andrea and Tommaso de Nicola, 29 and 24 years old, are two young brothers from Amalfi. If we were to describe their personalities, it would surely be the strong sense of belonging to their native place. Melphi's is an entrepreneurial project that adds value to the Amalfi area. «I started brewing at home, for fun, nine years ago. In 2017, a master brewer met by chance and gave my brother and me the motivation and tools to start a massive production. Within 15 days, we had 1000 liters of beer. And nothing else. At that point – continues Andrea – our mother's contribution was fundamental". 
Mama Enza is passionate about drawing. She begins to throw down some sketches for the logo, and here, after a few attempts, a stylized arch of the Amalfi Cathedral takes shape, and the business project starts. Beginning from Enza's sketch, Andrea and Tommaso developed the concept of Melphi's: Melphi refers to the legendary name of Amalfi. At the same time, each type of beer is associated with a secondary detail of Duomo's facade in the labeling. In a world dominated by speed, creating a label requires slow observation. 
"We understood that it worked when, talking with tourists and locals, we no longer spoke only of the product, but the detail recalled by the graphics. Tourists appreciated our label design as it brought to their attention some hidden aspects of the Cathedral'facade that would otherwise have gone unnoticed".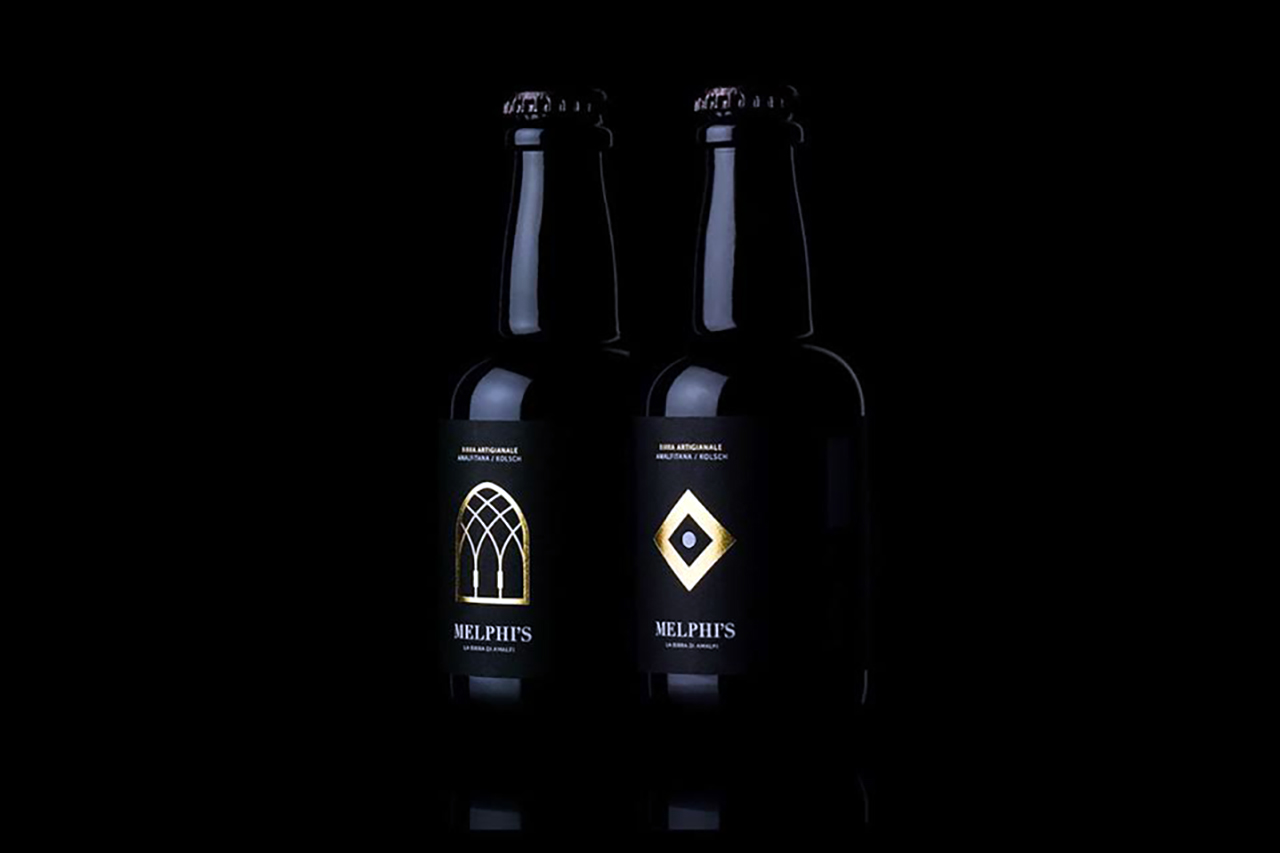 White, classic, and red
"The first beer produced was a white one made with Amalfi lemons, coriander, and cloves. As an aperitif, it is a fresh beer suitable to serve with fish dishes. The second is a Kolsch, a very classic beer with a persistent, more structured foam. The third is a red, born in the first lockdown. We decided to ferment it between the end of February and the beginning of March 2020: it has an aftertaste of caramel and coffee. It's all a game of malts". 
Young entrepreneurs have many projects they would like to work on. "We would certainly like to deepen the collaborations started with local companies. To date, we have already started with Pasticceria Pansa. We co-created a panettone with beer malt, whole wheat cantucci, and biscuits, always malt-based – says Tommaso – We want to work with local companies because this is also completely part of our vision. Our dream, on the other hand, would be to become wholemeal producers. The idea is to plant hops and malt in Tramonti, near the brewery, to have a beer made 100% on the Amalfi Coast. We're working on it".
The leap of Mattia Savo
Mattia Savo, 33, also from Amalfi, had his encounter with the world of cocktails 17 years ago. "I was in London, attending a summer college to improve my English. I saw my first shaker in a shopping center, I bought it, and it was love at first sight. From 2004 to 2016, I always worked in historic bars in Amalfi, such as the Gran Caffè and the Caffè Bistrot, until, in 2016, when I had the opportunity to open with my brother Nicola and two other partners, the Masaniello Art Cafè". 
Mattia's passion affects everyone. Nicola pushes to create a meeting place for young people, a living room outside the home, that Amalfi was missing at that time. We brought back to life the old concept of the "Masaniello Cave," a disco that had been active 30 years earlier in the same place. Rino Mangieri, another partner, who had an art shop in the same area, had the idea of an art café. In short, the intention was to create an original concept combining a shop and an American bar/burger shop. At the moment, inside the bar, you can admire the sculptures of Mao, Rino's father, and a well-known Amalfi artist by Sasà Sorrentino, Lucio Liguori, and Caruso.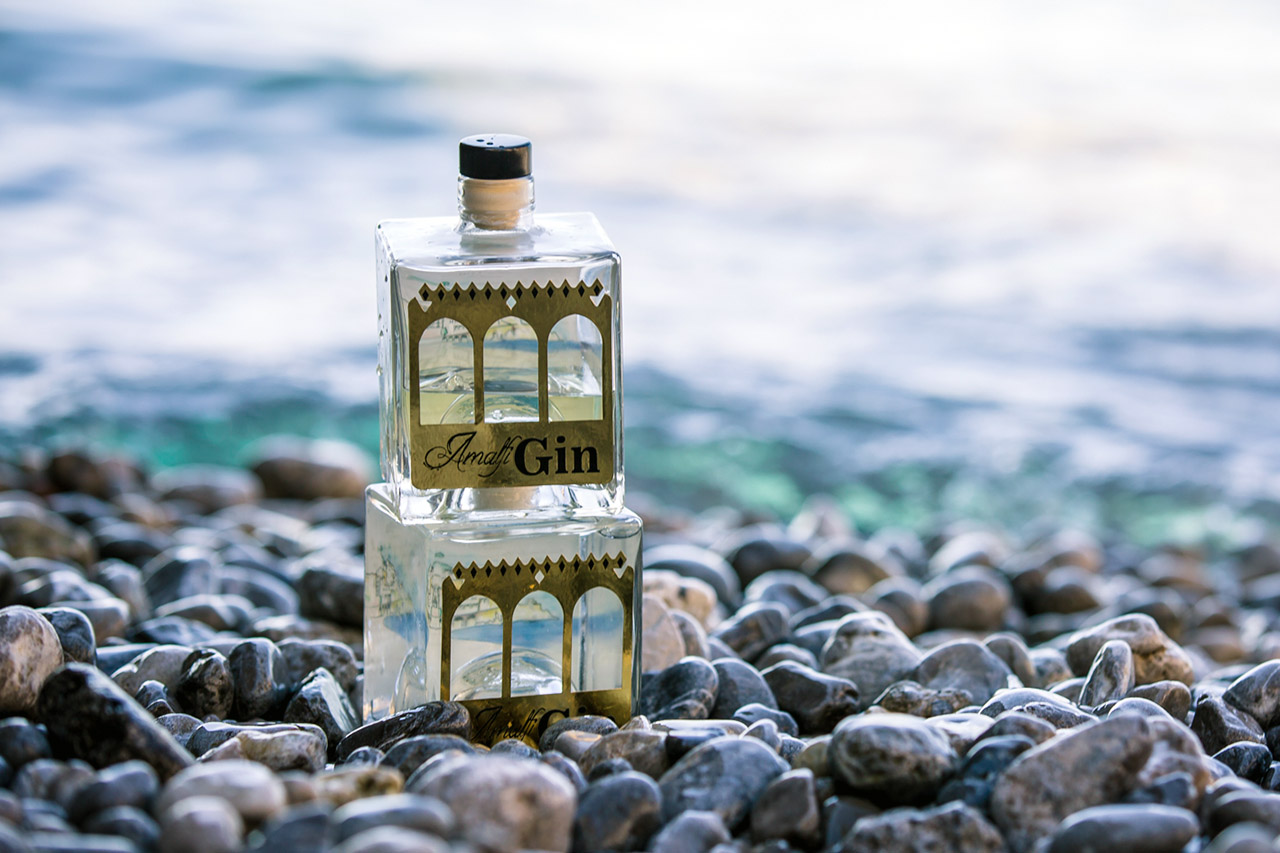 Gin and the dream of the botanical garden
Amalfigin, on the other hand, was born in 2017. "In the family, we had many sfusato gardens that I already cared for. I wanted to give a different meaning to our plants – says Mattia – I then turned to a distillery in the Salerno area, and after several attempts, I found the right formula. My gin's main ingredients are juniper – the type used is the coccolone, a Tuscan variant. There are the sfusato peels, a variant of fennel that grows near the sea, and other Mediterranean botanical flavors such as rosemary. I serve it with a zest of sfusato and a slightly floral tonic to give the Mediterranean aroma. Although gin is a ductile distillate, gin and tonic always remain the simplest and most effective". 
Even the labeling and bottle Mattia chose perfectly align with the general concept: the cubic-shaped, stackable bottle is equipped with an elegant label that shows one of the most beautiful views of Amalfi. The arches are Roman. They do not refer to the Amalfi Cathedral but to the Monumental Cemetery's arches, one of the most beautiful viewpoints of the Maritime Republic. Everything conveys a strong sense of attachment to the territory. It is an authentic tribute to the native country. "We worked a lot on the bottle design. It is also a souvenir of the place, a memento that the customer can personalize as he wishes".  
Mattia is a natural entrepreneur who loves to follow the business in all phases, from conception to achieving the final goal. "My greatest satisfaction? Give shape to an idea, and transform it into a project. I like to follow the entire life cycle of the company. While making another investment, I always try to take care of the previous business. Doing more things together is possible as long as there is passion. My dream would be to create a gin with other botanicals. Every town on the Coast has typical botany, and the territory's enhancement also passes through the beverage. We are not only typical liqueurs but also researchers. The best thing would be to have our botanical garden where we can plant everything we need".
Ravello Beer: an expression of a culture
Alessio Amato, 35, grows up in Ravello and today bears the name of his land as a tour operator in continuous training and updating. His insatiable thirst for knowledge characterizes his personal and entrepreneurial profile, resourcefulness, strength, and intelligence. 
After a degree and a graduate school in Archeology, Alessio returns to the Amalfi Coast to work in tourism. Meanwhile, he develops other entrepreneurial projects ranging from protomaioliche (a type of pottery) to beers with limoncello. "Birra Ravello was born about eight years ago; the first two years, from 2012 to 2014, were of experimentation. After several attempts with a master brewer, we found the right formula and fermentation times to make the Limoncello Beer I had in mind. It is a light, thirst-quenching beer, perfect for summer. Besides this, we also produce a classic blonde".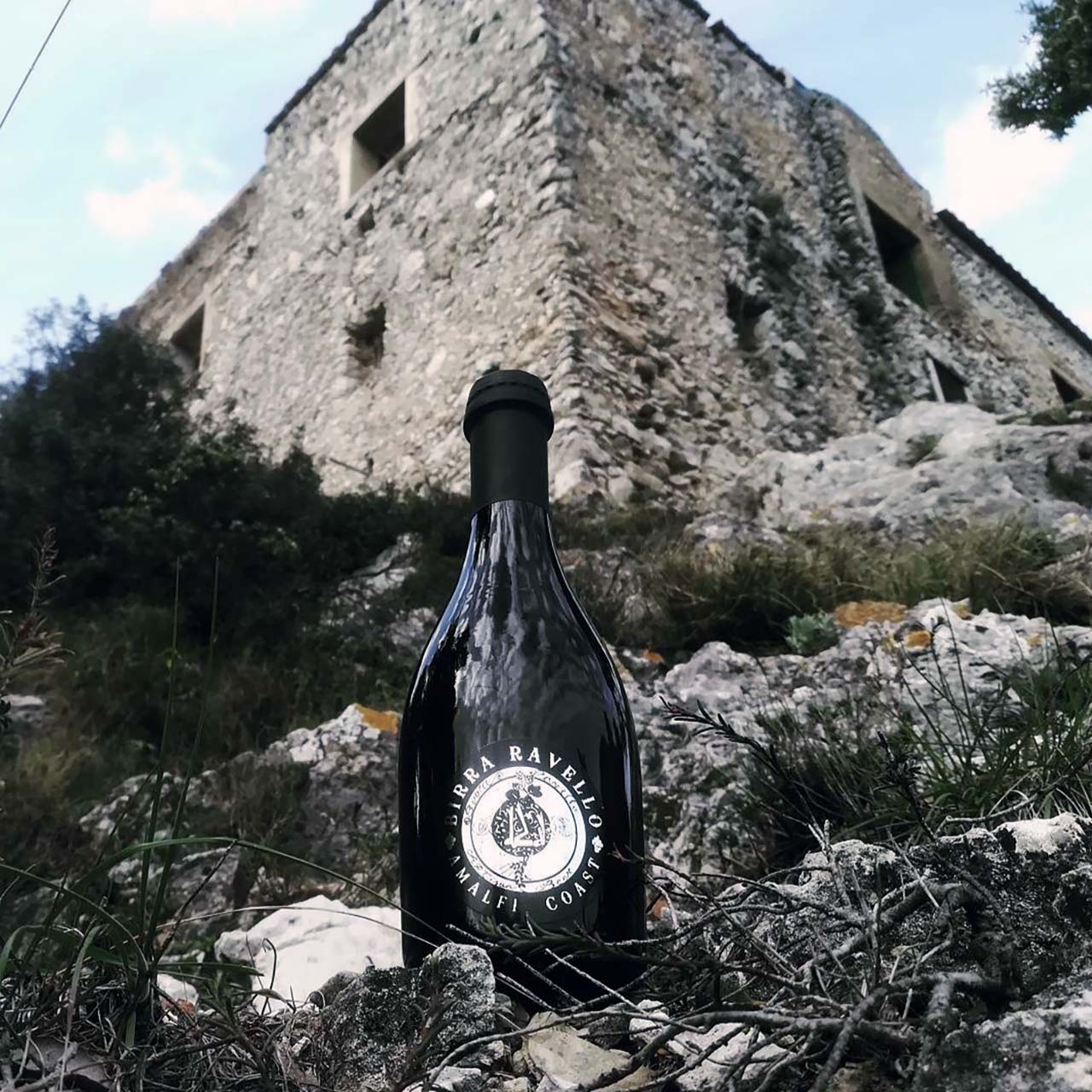 In honor of the history
The bottle label logo is in Arabic characters, in homage to the Arab influences typical of the Amalfi Coast. "Lemon is an Islamic import element. In all my business projects, I always try, in one way or another, to communicate how the Amalfi Coast has historically been a crossroads of cultures, a corner of the world capable of transforming what is different from itself into a resource. Specifically, the logo is inspired by a blessing in Islamic language reported on a ceramic basin placed on the 12th-century pulpit in San Giovanni del Toro's church in Ravello. Probably the ceramic basin could be older. It is surprising how one can find an Islamic blessing in a Christian church". 
Therefore, Alessio's cultural entrepreneurship is a noble attempt to combine business and enhancement of the territory, cultural and collective memory in the constant search for that sense of openness, of exploration of the other that the young Ravellese places at the basis of the growth of any community. "I believe that cultural entrepreneurship on the Coast is not only possible but even necessary. If we manage to educate the guest by educating ourselves, we all win".
(Transaltion by Michela Pandolfi)