Land of 'ndunderi and cradle of master pasta makers, the vibrant town has become the realm of food lovers, thanks to chefs' and pastry chefs' creativity, dedication, and passion.
September 27th, 2022. By Anna Volpicelli, cover photo by Salvatore Guadagno
---
The city of taste still spreads and expresses the Amalfi Coast's rich culinary tradition and innovation. Minori, the small village once inhabited by fishermen, has transformed over time into a natural hub for food lovers. It is the place where the knowledge of handmade pasta making was born and developed, thanks also, in ancient times, to the presence of numerous mills.
The cradle of master pasta makers who gave birth to new types of pasta, including the famous 'ndunderi, a local and coastal gastronomic heritage. To fully experience the best this land has to offer, we have made a selection of some restaurants, pastry shops, and bistros, where you can savor dishes that tell, through their ingredients, the story of this vibrant kingdom.
Sal De Riso
The menu traces the history of Mediterranean and Neapolitan gastronomy with recipes that favor mainly local products. From breakfast to dinner, a culinary offering where sweet and savory flavors are harmoniously intertwined, giving authentic taste experiences.
"As far as the cuisine, the highlights are traditional dishes including eggplant parmigiana, with my grandmother's recipe, potato gateau, and homemade pasta, including scialatielli and 'ndunderi with the local fish," explains De Riso, who is about to leave for his business trips to northern Italy.
The pizza menu features as many as 20 types, from classic to gourmet. The dessert tray, the highlight of De Riso's reign, puts together more than 100 different offerings, ranging from croissants, bomboloni, and pasticciotto to Neapolitan curly sfogliatella, fragrant lemon delight, ricotta, and pear mono-portions to spoon desserts.
"My dream and intention, given the opening of the new restaurant," De Riso says, "is to bring back to life the dishes of our tradition, such as cannelloni or crespolini alla ravellese, to give new life to our culinary heritage.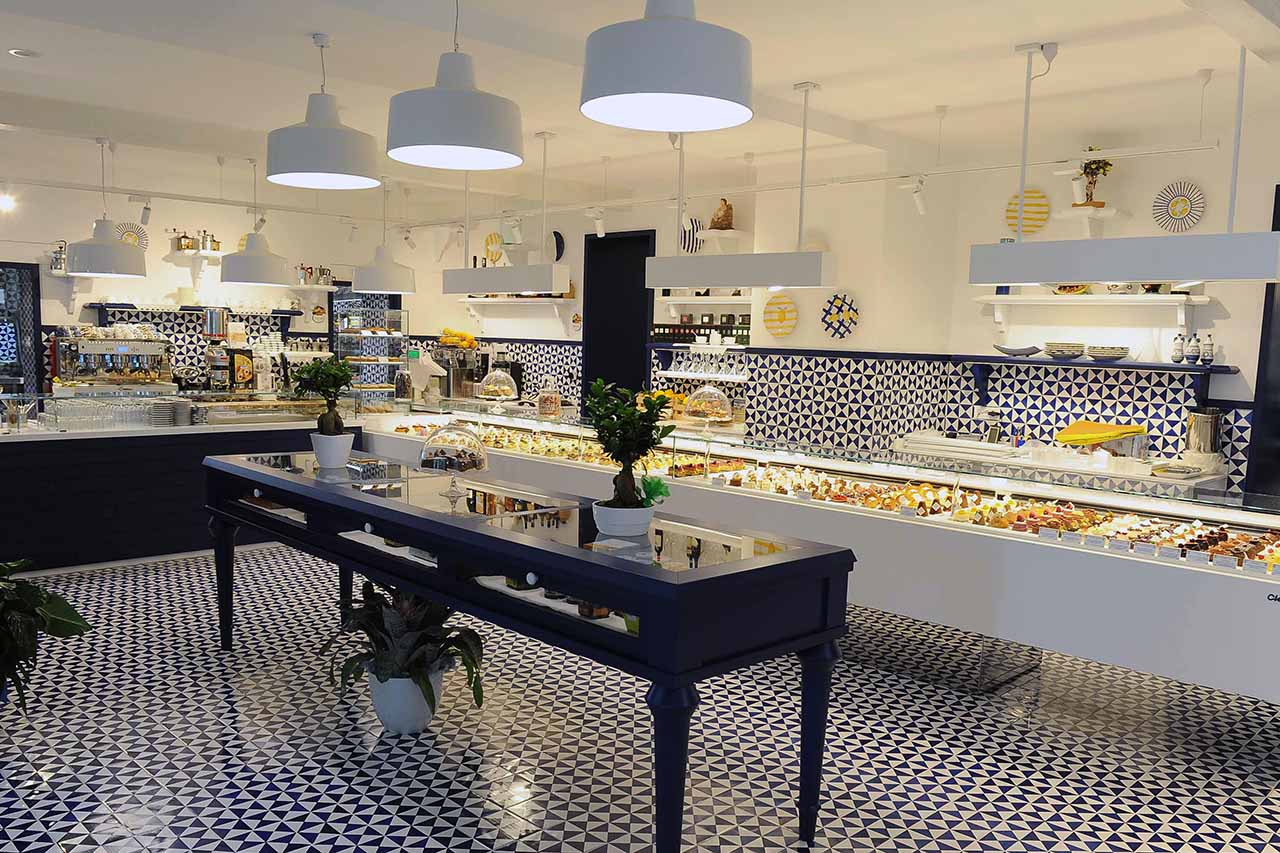 Locanda Del Pescatore
Pottery hanging on the walls, a rustic yet sophisticated atmosphere, the restaurant offers mainly a seafood menu. For starters, try the Amalfi fried anchovies stuffed with provolone cheese or a marinated triptych with citrus from the coast, a dish that brings together swordfish, anchovies from Cetara, and salmon.
Among the first courses, the choice is paccheri with daily fish, homemade gnocchetti with pistachio pesto and salmon, or scialatielli allo scoglio. The main courses range from grilled sea bass, chef's style gilthead bream with olive oil, garlic, cherry tomatoes, parsley, and fried paranza to fisherman's soup. And to conclude, the recommendation is the buffalo ricotta and Amalfi lemon tart among the desserts.
Pasticceria Gambardella
It is one of the food landmarks of the Amalfi Coast pastry shop. Founded in 1963 by Francesco Gambardella, today, his three children, Francesco, Alessandro, and Emiliana, are carrying on the reins of this family business. Although everything, even now, takes place under the watchful and silent eye of their father, who eats his daily breakfast at one of the tables set up in the dehors.
"We are open from 7 a.m. to 11 p.m. and offer sweet and savory recipes," says Francesco Gambardella, son. It's a natural landmark for tourists and locals alike; everyone leaves with the memory of the taste of pasticciotto, so they often return. "We have classic pastry products including sfogliatella, shortbread, and typical specialties of our area including lemon delight, lemon profiterole, and ricotta and pear cake," he explains.
The savory menu features typical good deli dishes, including pizzettas, calzones, cheese rustici, and croquettes, as well as toasts and sandwiches with mozzarella and tomato, mozzarella and ham, or chicken and cheese-all prepared in the kitchen adjacent to the restaurant. In addition to the wine list are the liqueurs made by Emiliana. She is in charge of and runs the family liquor store in Piazza Cantilena at number 7. In addition to offering tastings, an open laboratory also offers experiential tours where techniques and secrets related to making liqueurs are revealed.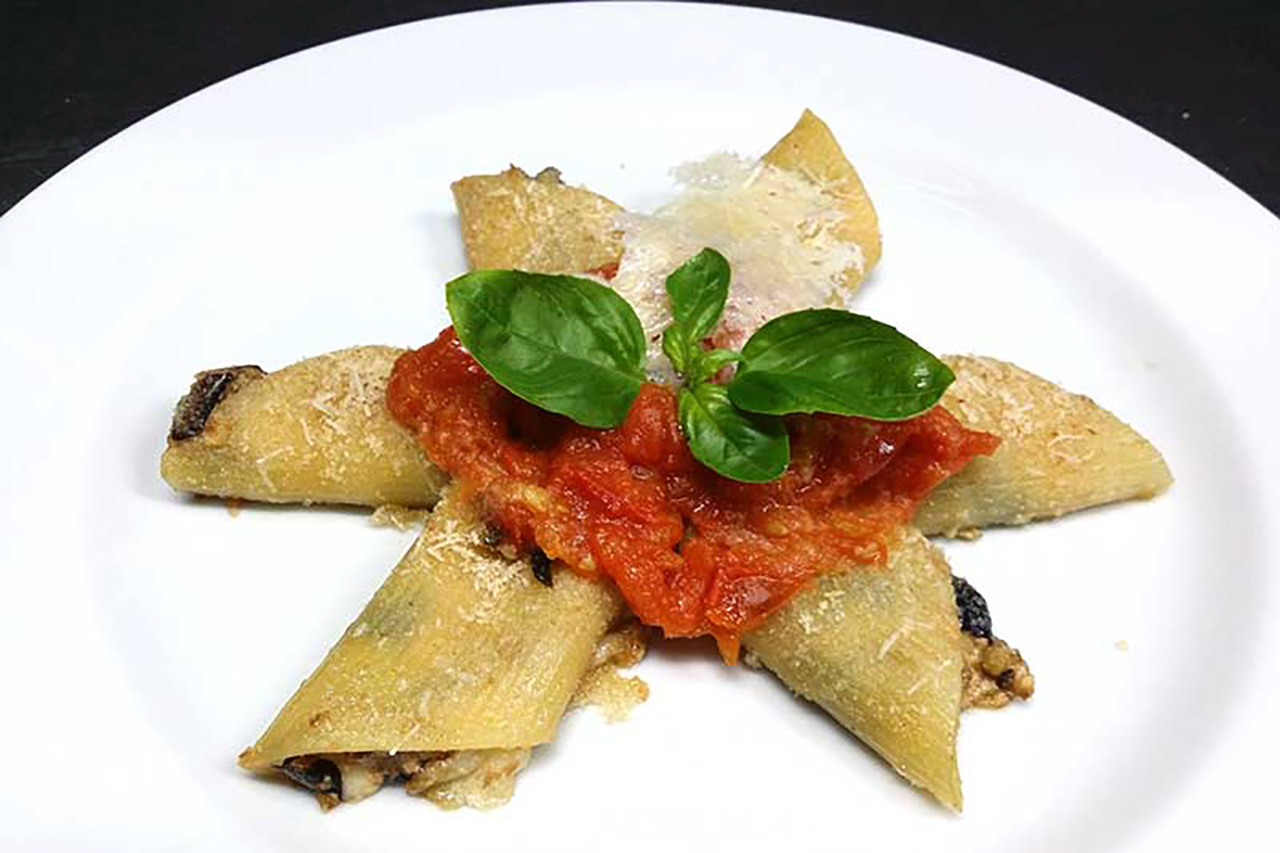 Trattoria 'a Ricetta
For ten years, Marialucia Manzi, owner of the restaurant, has dedicated herself to preparing typically local dishes. "We offer the territory a menu that speaks of the flavors and aromas of the Amalfi Coast," Manzi says. Petite, with black hair and a kind and welcoming look, she wears the indispensable apron, her uniform. She left her realm of stoves, pots, and smells for ten minutes to explain her restaurant's philosophy.
"Besides introducing Minori and the Coast through my cooking, what is important is the contact with my guests, taking care of them, and knowing how they are. I often go between tables to chat and get to know them in person. We have clients who call us during the year to find out how we are doing, and I write postcards to them. In addition to filling me with joy, it confirms that what I am carrying out is working."
The menu flaunts mainly seafood dishes, including seafood 'ndunderi, caramelized with citrus fruits and sautéed anchovies, tuna Genovese with semolina Fusillo made using the ferretto, as tradition dictates, and interrata with sautéed anchovies and walnuts. The wine selection is curated by Marialucia Manzi with suggestions from the local area. "We make everything ourselves, even the liquors, including the classic limoncello and concerto."
Taberna 33
In the heart of Cantilena Square, this is the ideal place for lovers of Mediterranean sandwiches and tapas. Here, there are plenty of choices among charcuterie and cheese boards and homemade recipes, including eggplant parmigiana, a trio of pasta omelets, and burgers.
Among the loaves, so the menu is titled, try Evviva 'o'rre' with Chianina burgers, river friggiteli, fior di latte di Agerola, Fiocco di Norcia prosciutto, and crispy potato anchovies, or Amore senza Fine, with smoked Caserta black pork burgers, eggplant, stracciata di bufala, and annurca apple. All paired with a careful selection of wines and craft beers.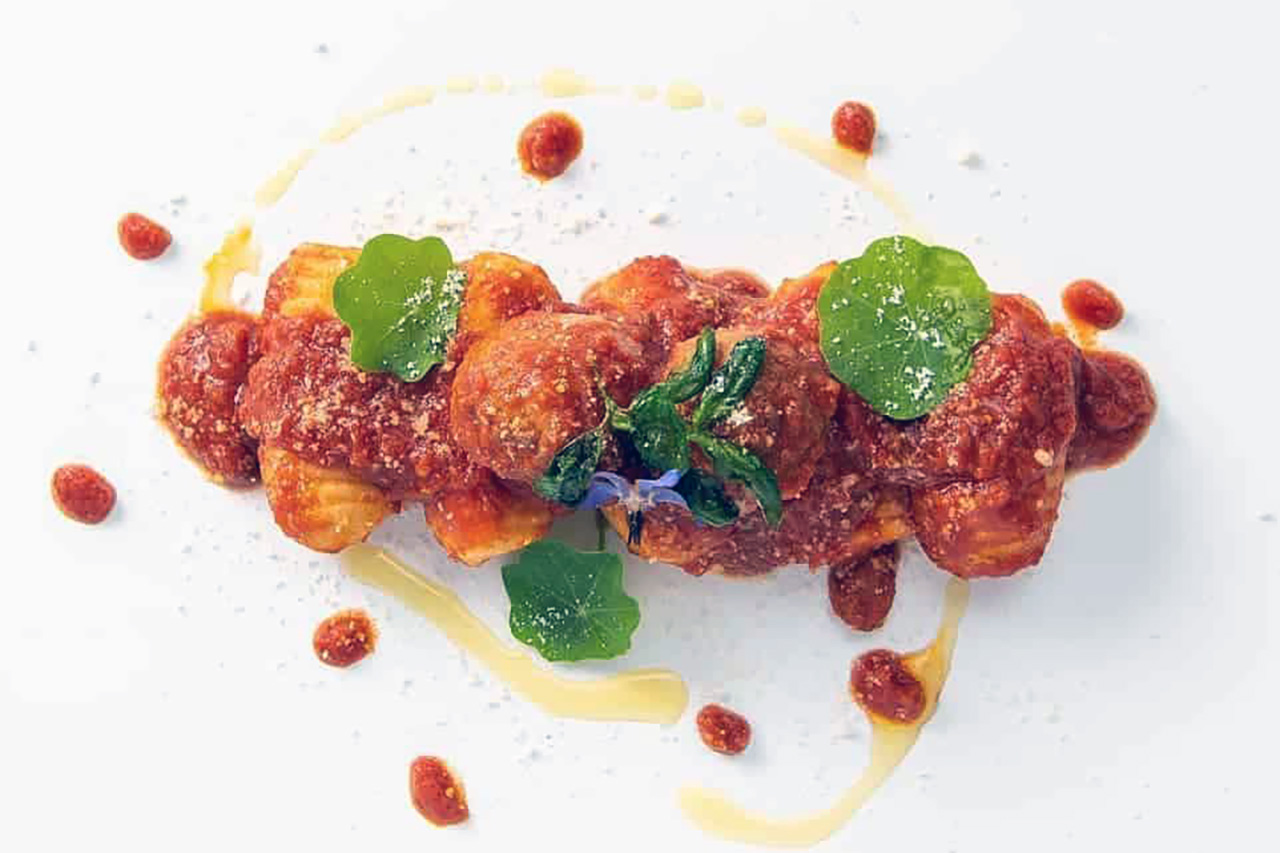 Giardiniello
It is one of the oldest restaurants on the Amalfi Coast. Opened in 1955 by Mr. and Mrs. Francesco Di Bianco and Annunziata Celio, carrying on this family business today are their two sons, Antonio and Giovanni, along with historic chef Giovanni Cozzolino, who has been working at the restaurant for 13 years.
"We aim for traditional cuisine with a prevalence of fish dishes, without excluding meat dishes. The most popular ones are the sea bass with lemon, the grilled fish the fried but also the 'ndunderi with Neapolitan ragout cooked in the oven," says the chef, whose philosophy "the less you touch it, the less you ruin it" has become a kind of motto for the whole restaurant.
"For us, the raw materials are very important," says Antonio Di Bianco, co-owner, "which are meticulously selected by our chef and his entire staff. A simple and quality cuisine served with friendly and welcoming hospitality. We have, in fact, a loyal clientele that, year after year, always comes to visit and eat at our restaurant, and a list of celebrities. In 1988 we even hosted Diego Armando Maradona with his entire family."
Among the celebrities, international actors, including Denzel Washington and Kevin Spacey, and national personalities such as Pippo Baudo, Eros Ramazzotti, Ligabue, and many others have sat under the restaurant's arbor. If the dishes prepared by Cozzolino's are a magnet for customers, the wait staff's hospitality keeps them coming back. In addition to the restaurant's menu, pizza is a must for the place.
"Il Giardiniello," says the chef, "started as a pizzeria and then turned into a restaurant over the years. Among the different types offered, the one that is the most popular is the Giardiniello pizza, made with buffalo mozzarella, yellow and red tomatoes, parmesan, and basil."
The expanding wine cellar also features exciting labels. "The selection is curated by my niece Barbara Di Bianco," explains Antonio Di Bianco, "and includes local, regional labels, some Italian excellences, and a few international bottles.
Tipico Terre di Nocciole
Opened about a year ago, it is a new gastronomic reality in the small square in Largo Solaio Dei Pastai, an area of historical importance to all Minoresi. The owner is Antonio Pisaturo, 39, a native of Giffoni, who decided to transport the products of his Terre di Nocciole (Giffoni) Farm to the Amalfi Coast.
"I inherited the farm from my grandfather where we grow hazelnuts, chestnuts, wild strawberries, figs, and produce oil, as we have a large oil mill. My mother moved to Minori years ago, and when I decided to open Tipico, I thought Minori was the ideal place," Pisaturo says behind the counter of his restaurant.
An intimate place with attention to the smallest detail. On the shelves are packages of pasta, bottles of hazelnut beer, wines from Campania, and hazelnut creams. Despite its young age, the café already boasts several loyal patrons who stop by every morning or throughout the day for a hazelnut coffee served on a wooden tray in a glass accompanied by a hazelnut.
Open from eight in the morning until midnight. It also offers lunches, appetizers, and dinners. The menu features hazelnut pasta, platters of cured meats and cheeses, focacelle, and panuozzi, including Amalfitano with lemon and provolone cheese from Tramonti or Cetarino with anchovies from Cetara. Desserts also deserve a taste, such as torta giffonese, crespella, baked chiacchiere with hazelnut pieces, chocolate chips, and hazelnut cannoli. It is a place that combines the goodness of two cultures, the Giffonese and Amalfi cultures.