A toast at sunset, during a romantic dinner or with friends. The bottles of the Amalfi Coast that celebrate the summer
August 17th, 2022, by Francesca Faratro
---
Summer is the season of lightness of mind, full of panache that distinguishes faces, embellishing them with genuine smiles and freedom, albeit temporary, but capable of satisfying the mind. Among a sip on the terrace, by the beach, the goal is to celebrate life.
Here are the summer wines from the Amalfi Coast, selected from those that best suit the current months. Labeled with captivating designs, they can be placed in baskets full of ice and ready to be uncorked.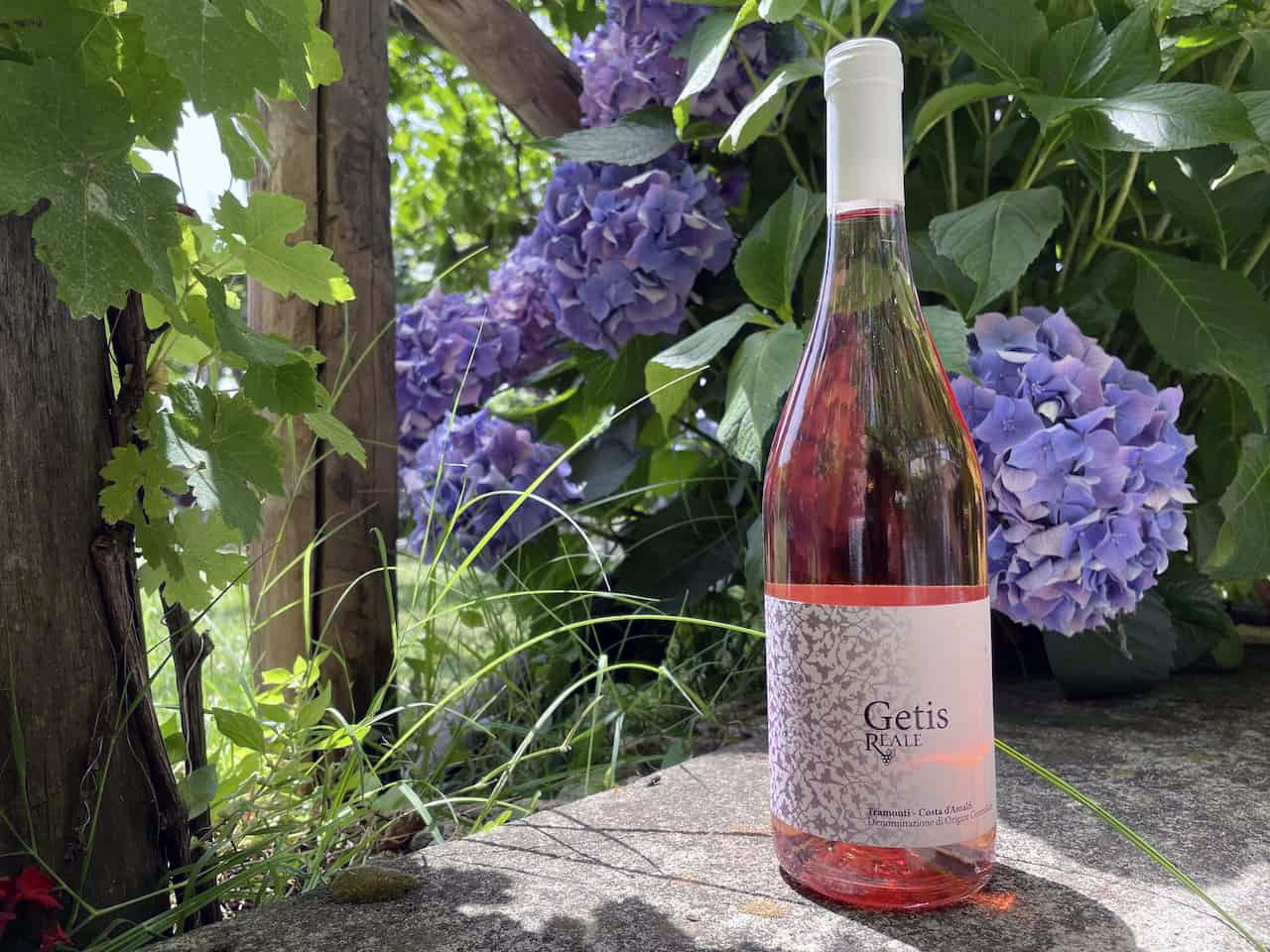 Getis- Azienda Agricola Reale
From the Reale brothers' farm, produced in the rocky hamlet of Gete, the heart of Tramonti, Getis is a wine that conquers. Made with Per'e 'Palummo and Tintore grapes, it is a rosé, award-winning, and the pride of those who produce it not only with techniques and knowledge but by transmitting all the enological passion to the wine.
The color is fascinating, with pink shades tending to pale ruby thanks to dyeing grapes accentuating the shades. The aromas recall coastal flowers, those of citrus fruits, with hints of rose and an iodized finish that allows this wine to be combined with seafood dishes, with long cooking such as fish soup or even meat proposals. They produce about 2000 bottles to be served at 10 ° / 12 ° C.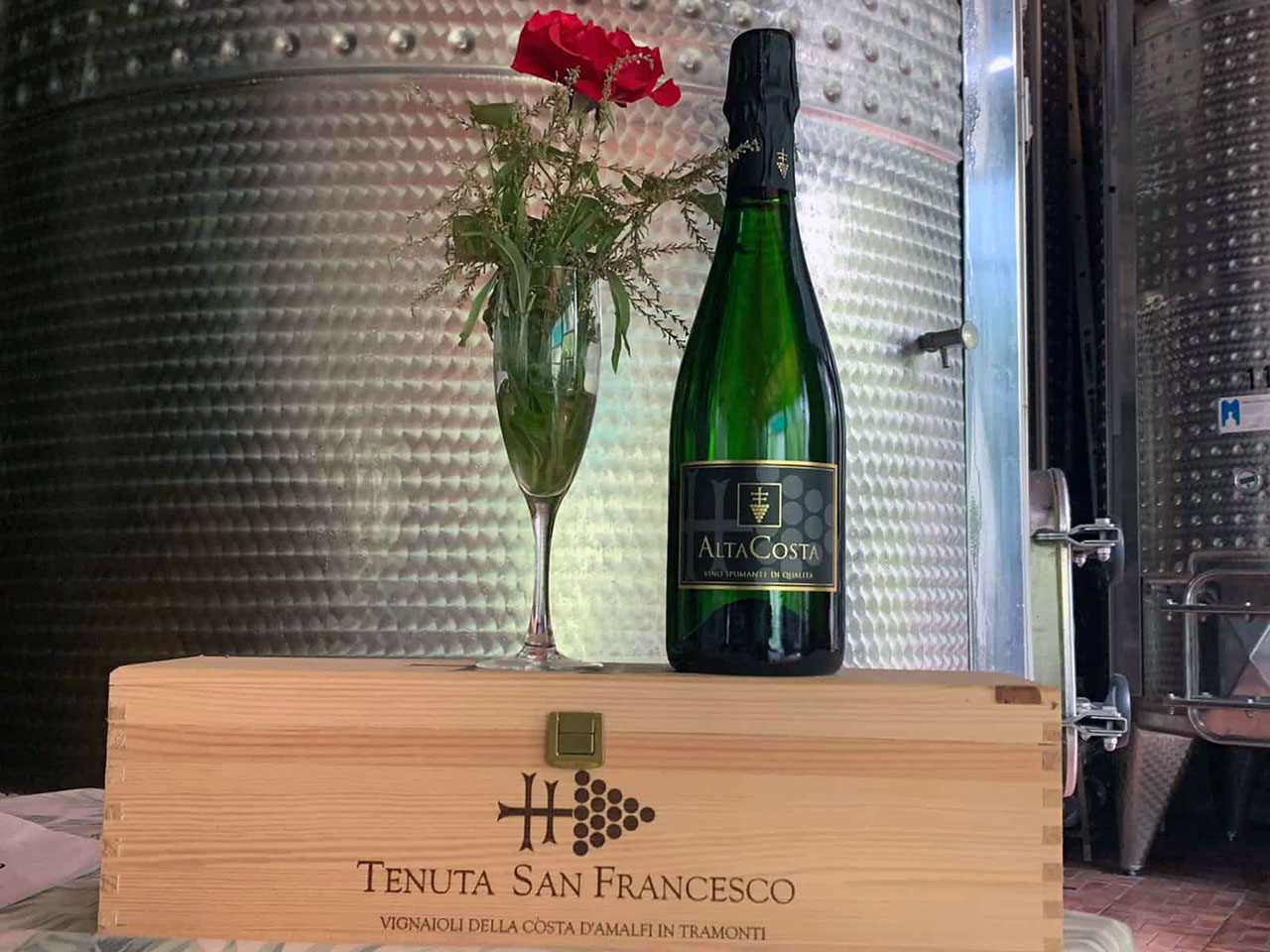 Alta Costa – Tenuta San Francesco
The only classic method produced on the Amalfi Coast, Alta Costa, is Tenuta San Francesco's brut sparkling wine. A wine strongly desired by the company's members who celebrated the "bubble" with a product that would have sanctioned all their moments to celebrate for fun or a bet. After vinification from Biancazita and Biancatenera grapes, it is left in the bottle for about 36 months directly on the lees.
Its bright straw yellow color expresses a delicate taste. Floral and citrus scents prevail, hints of fruit and mineral scents that bring you back to the sea of the Amalfi Coast. Savory on the palate, with a purely refreshing acid note and perfect for summer, it goes well with seafood, starters, or even to be a wine for the whole meal, capable of accompanying the guest from the first courses to dessert. Serving temperature around 6 ° / 8 ° C.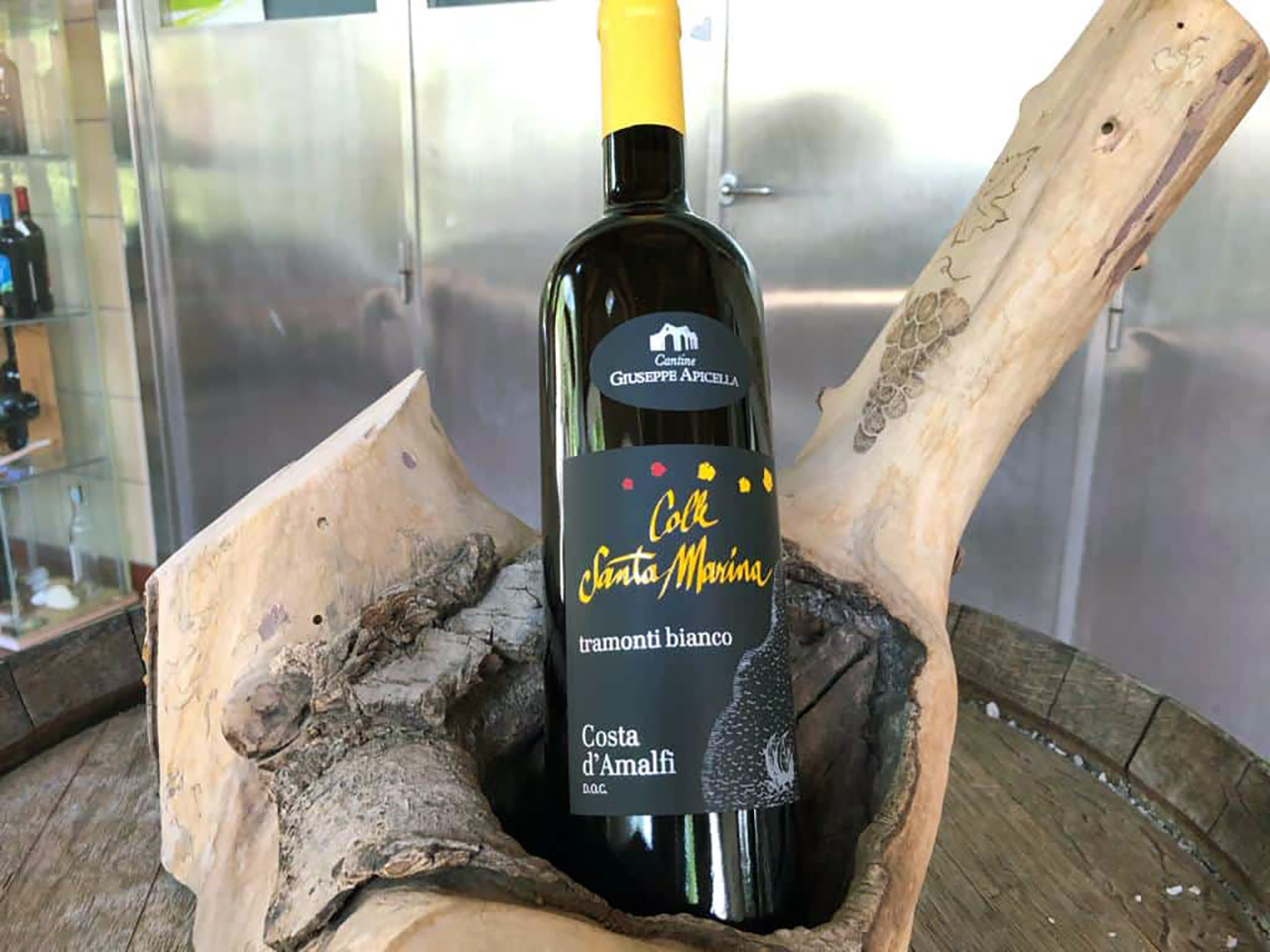 Colle S.Maria – Cantine Apicella
White and fresh, ideal for summer but also loved all year round, Colle S.Marina is a white wine from the Apicella winery. Prisco and his father Giuseppe, who run the company with a solid attachment to tradition and the territory, have given life to this label by paying homage to the area from which the wine takes its name, planted from scratch in 1985 and planted with white grapes with Falanghina, Biancolella, Ginestra, and Pepella.
Obtained from a late harvest and subjected to a short passage of 30% of the mass in wood, it is a wine that conquers for its sweet scents on the nose and straw yellow color. In the mouth, there is ripe fruit, almost buttery hints, the jam as if it were mustard, and light vegetal hints. Ideal to accompany seafood cuisine, local dairy products, or why not, even for a good plate of pasta, better if seasoned with shellfish or with white meat-based second courses. Recommended serving temperature between 8 ° and 10 ° C.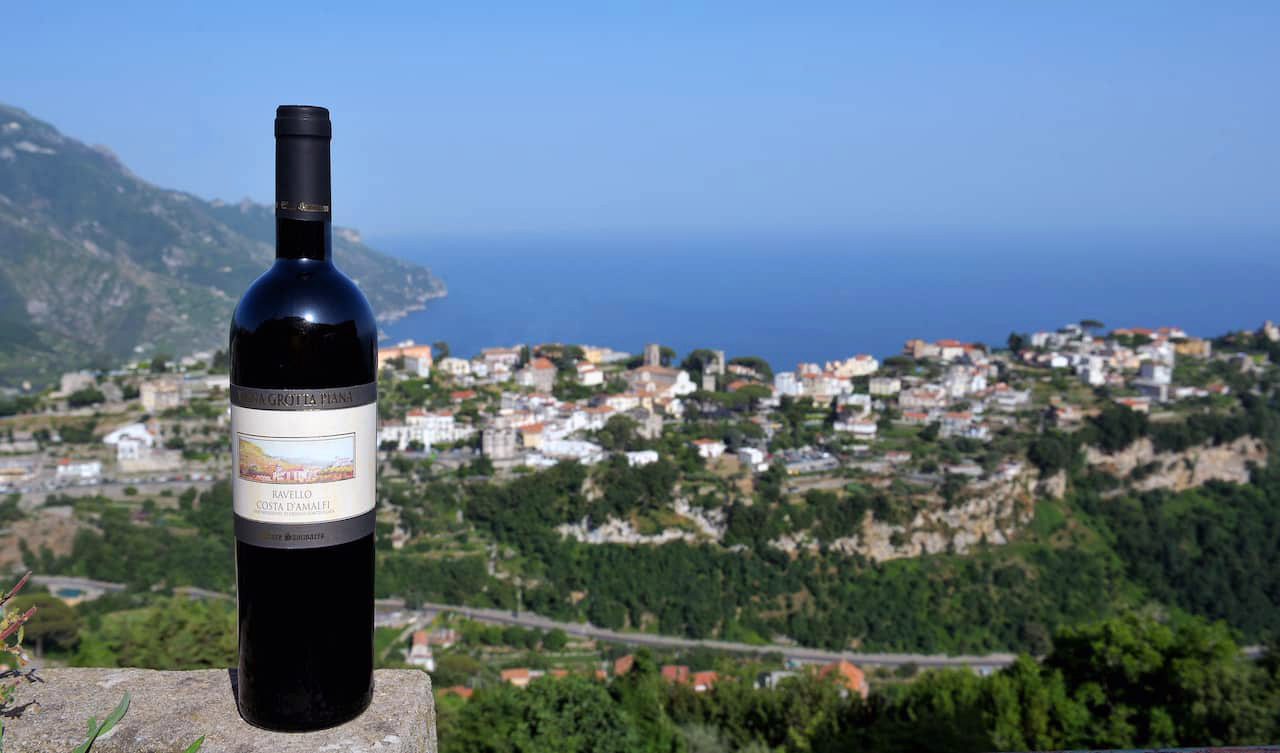 Vigna Grotta Piana – Ettore Sammarco
With a solid territorial imprint, the scents of Mediterranean vegetation, and golden reflections reminiscent of the coastal sun, Vigna Grotta Piana is the cru of Ettore Sammarco's company with his son Bartolo have created a particularly captivating wine. The label's name is inspired by the vineyards near a cave 450 meters above sea level, planted with Ginestra, Falanghina, and Biancolella, which make up the product.
The grapes, vinified in steel with a stop in wood for about six months, give life to a deep straw yellow glass with intense reflections tending to gold. On the nose, the notes are vegetal, citrus, and honey, while there is the memory of salt, fruit, and a good flavor in the mouth. Ideal with local cuisine, with fish-based dishes and subjected to medium-long cooking, it also goes well with meat-based dishes or first courses with vegetables such as pasta alla Nerano. They produce only 2000 bottles to be served at a temperature of about 10 °.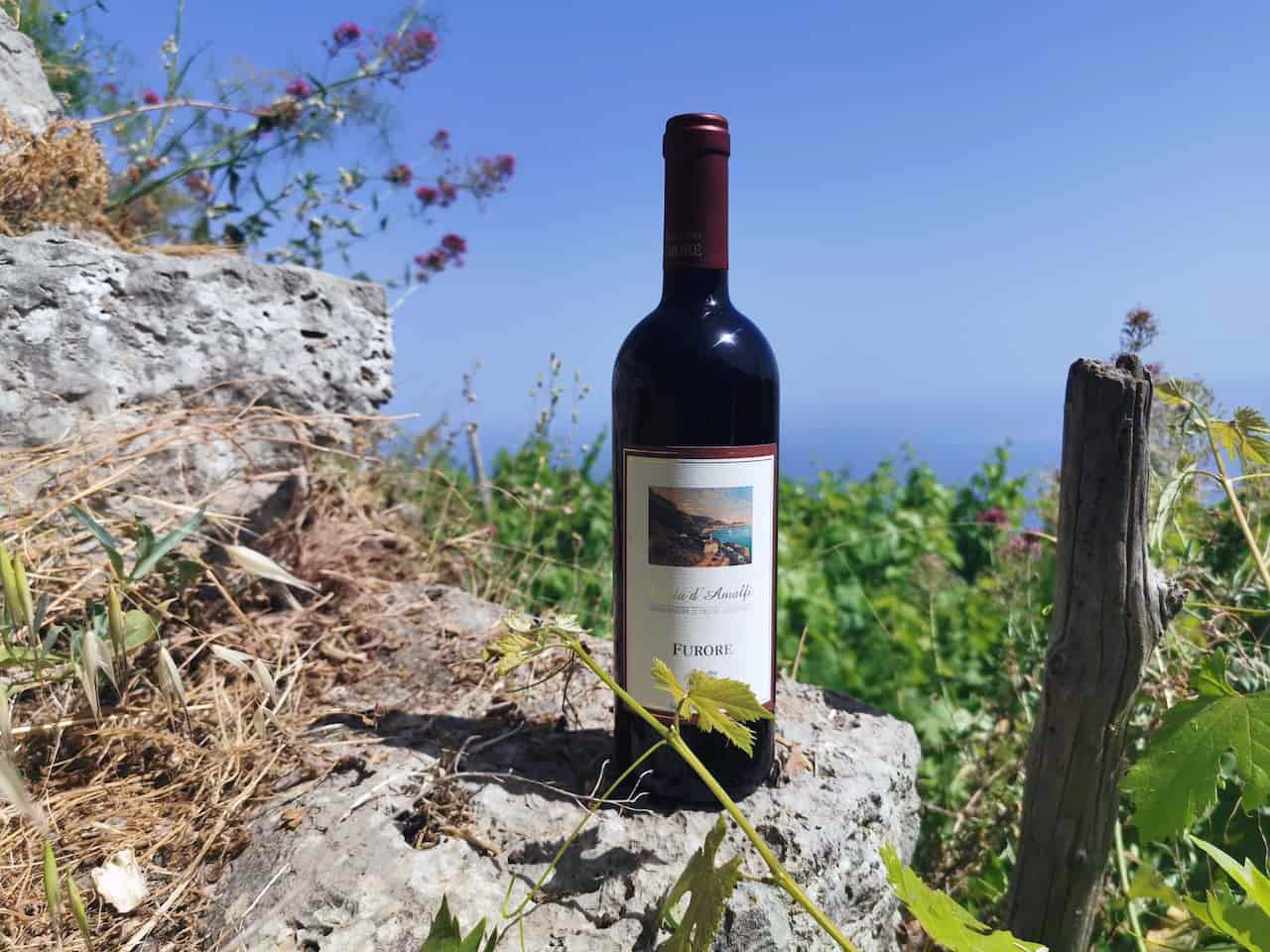 Furore Rosso – Cantina Marisa Cuomo
Able to let the light penetrate, made in equal parts by Aglianico and Piedirosso, Furore is the red of Marisa Cuomo. Her husband, Andrea Ferraioli, and the whole family have become the face of the Amalfi Coast wine worldwide. With grapes from vineyards overlooking the sea, between vegetation and rocks that cut the mountain, the wine is subjected to vinification in steel which follows a passage in barrique for about six months.
With an intense ruby color, red fruit prevails on the nose, such as blackberry and cherry, alternating with spicy notes. You can feel the minerality on the palate, still the fruit, and a suitable elegance even of the gentle tannins. This wine is ideal for meat dishes, traditional local first courses such as ndunderi (gnocchi made with ricotta in the dough) seasoned with meat sauce, or rabbit in lemon leaves. The recommended serving temperature to allow the wine to be better appreciated is 14 ° / 16 °.