Restaurants, including Michelin-starred ones, bistros, and pubs, are Maiori's places of taste.
May 17th, 2023, by Anna Volpicelli. On the cover is a dish by Capo d'Orso
---
Flavors of sea and land, territoriality, tradition, research, and innovation. These are the ingredients that define Maiori's culinary history and evolution. A cuisine well told by chefs and restaurateurs who, with creativity and passion, compose dishes where taste blends perfectly with aesthetics.
Capo d'Orso
A lush garden and, in the background, the dense Mediterranean nature distinguishes the Amalfi Coast: the painting surrounding Capo d'Orso, the restaurant on the Amalfitana just outside Maiori, visible from the terrace.
"Capo d'Orso has been chosen as a set by many well-known directors. Our establishment has one of the most beautiful overlooks on the Campania coast. The hour of sunset, when the sun drowns in the Tyrrhenian Sea, is special, especially in the summer months: the sky, of a thousand different colors and shades, is an ideal setting for any special occasion," Pio Ferrara, the owner of the restaurant, tells us.
"Seasonality is the fundamental characteristic of our culinary offerings and proposal; the raw material we select is as local as possible, convinced as we are that to cook traditional dishes – however revisited – local ingredients must be used, which have accompanied the Coast's most identifying recipes over the centuries."
In the 1990s, the great leap in kitchen quality marked a critical evolution in the Ferrara family's commitment to transmitting Campania's culinary culture. "In 1999, we created in the lower part of the promontory of Capo d'Orso our restaurant Il Faro: we conceived it as a small jewel set on the cliff, overlooking the sea, to leave our guests in direct contact with the most living nature and close to the scents of our crystal clear sea." The Lighthouse today is one of the Coast's most renowned restaurants that performs à la carte service with a Michelin star.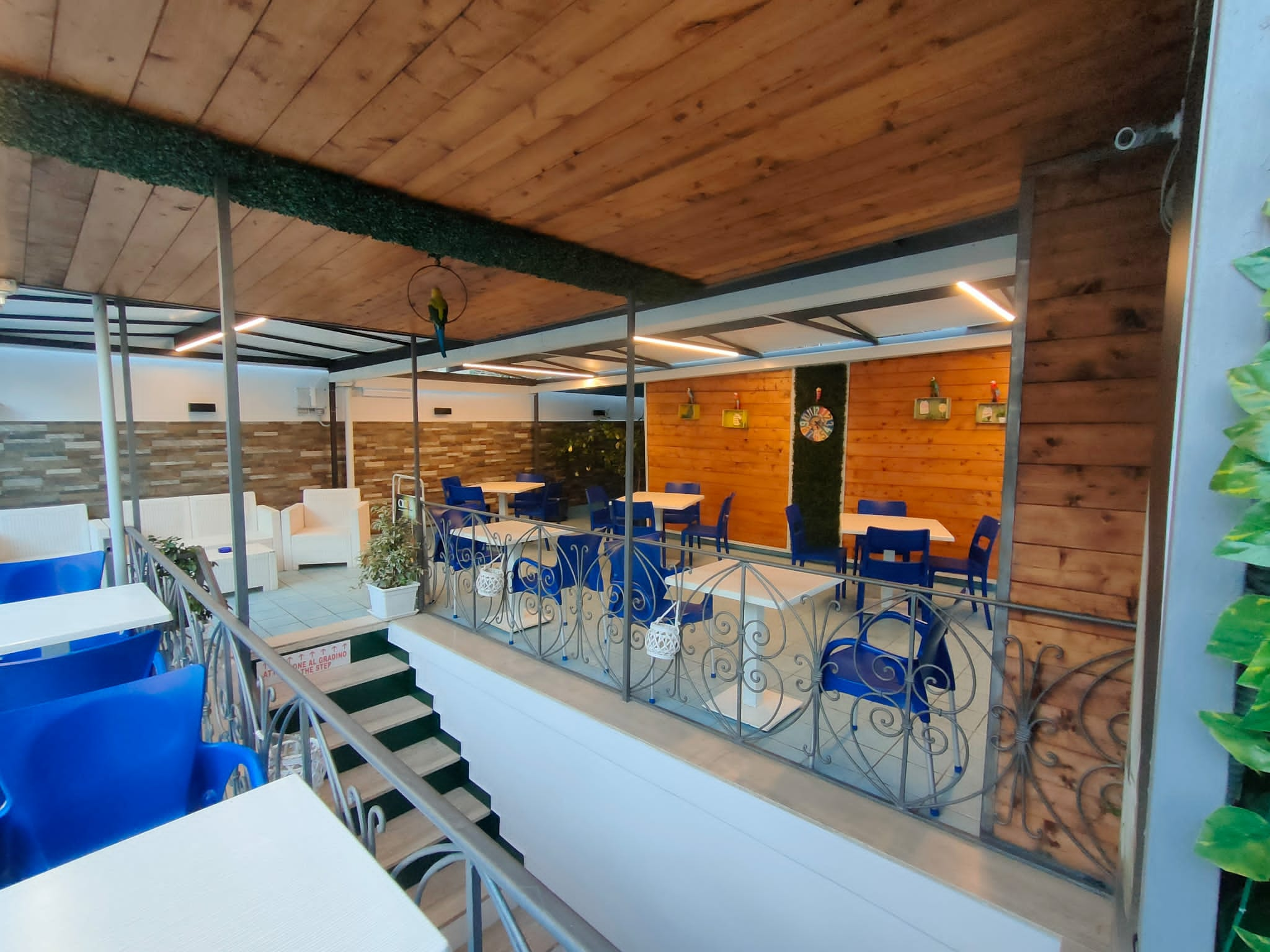 Cico's RistoPub
"The idea of opening this restaurant came from my mother Nunzia's passion for cooking and mine for everything related to beer, sandwiches, burgers, and meat. We, therefore, combined the two and opened Cico's," Antonio del Pizzo, owner, tells us.
Built inside the former maiorese disco Il Pappagallo and spread over two levels: a large dehors seat guests on hot summer days and an indoor space with soft lighting on colder days, the restaurant combines traditional dishes with a wide selection of tasty meat dishes. In the kitchen, Ms. Nunzia prepares meatballs with sauce, eggplant parmigiana, scrigni maioresi, or fresh egg pasta filled with burrata cheese and lemon cream. The meat menu, on the other hand, includes different types of hamburgers.
"Among the most popular is the Elisabetta Burger, which is the most complex and was created as a tribute to my sister. It is a sandwich with a burger, salad, tomato, bacon, cheddar cream, egg, and onion rings, and the Maradona, with meatballs with sauce, eggplant parmigiana, and Agerola provola cheese." The ingredients are primarily local and from a national meat supply chain. Among the dishes, the pulled pork, organic rosemary chicken tagliata with mixed salad, and the Abruzzesi, pat sheep arrosticini with fries are a must try, all accompanied by a selection of wines from the Amalfi Coast, Campania, and a few national labels, and beer.
Divin Baguette
Opened in 2018, this tiny bistro in the heart of Maiori, just a few steps from the sea, was born from a sort of epiphany owner Francesco Baldi had during a trip to Valencia. "I have always traveled a lot because exploring new realities and different cultures is essential to my personal growth as a human being. I was in Valencia, and I saw baguette shops making these sandwiches with jamon serrano. Hence the idea of opening a similar place in Maiori to serve only local products," Francesco, who has years of experience in luxury hotels, tells us.
Inside, the place features a counter where cold cuts and raw materials are displayed and some seating. Outside, in the dehors, a few tables are set up where you can enjoy noodles, stuffed baguettes, and salads for lunch or dinner. "We deal with products from the coastal and national territory that I research carefully, so provolone del Monaco, fiordilatte di Agerola, seafood products including anchovies but also tuna, marinated swordfish, and cured meats, which make up our cutting boards and baguettes. The choice of this type of bread is not random, as it goes well with numerous fillings," he adds. There are, of course, plenty of cold dishes, including Caprese, bluefin tuna tartare, and salads.
The combinations for creating one's baguette are diverse, ranging from the classics with prosciutto crudo, mortadella, and speck that are combined with cheeses, such as provola di Tramonti, and vegetables, to vegetarian versions, to fish or more gourmet choices, including Porchetta di Ariccia I.G.P. with porchetta, pistachio cream, provola di Tramonti and yellow tomato.
"Each baguette is created by us and is tested and tried." Nothing, in short, is left to chance. "Many of our customers also return for our cutting boards, which come in different sizes and varieties." Among these to try is the D.O.P. which includes a selection of Italian P.D.O. cheeses and cured meats served with thin and organic jams, or the Mare, which features a mixed selection of fish, navy, and carpaccio.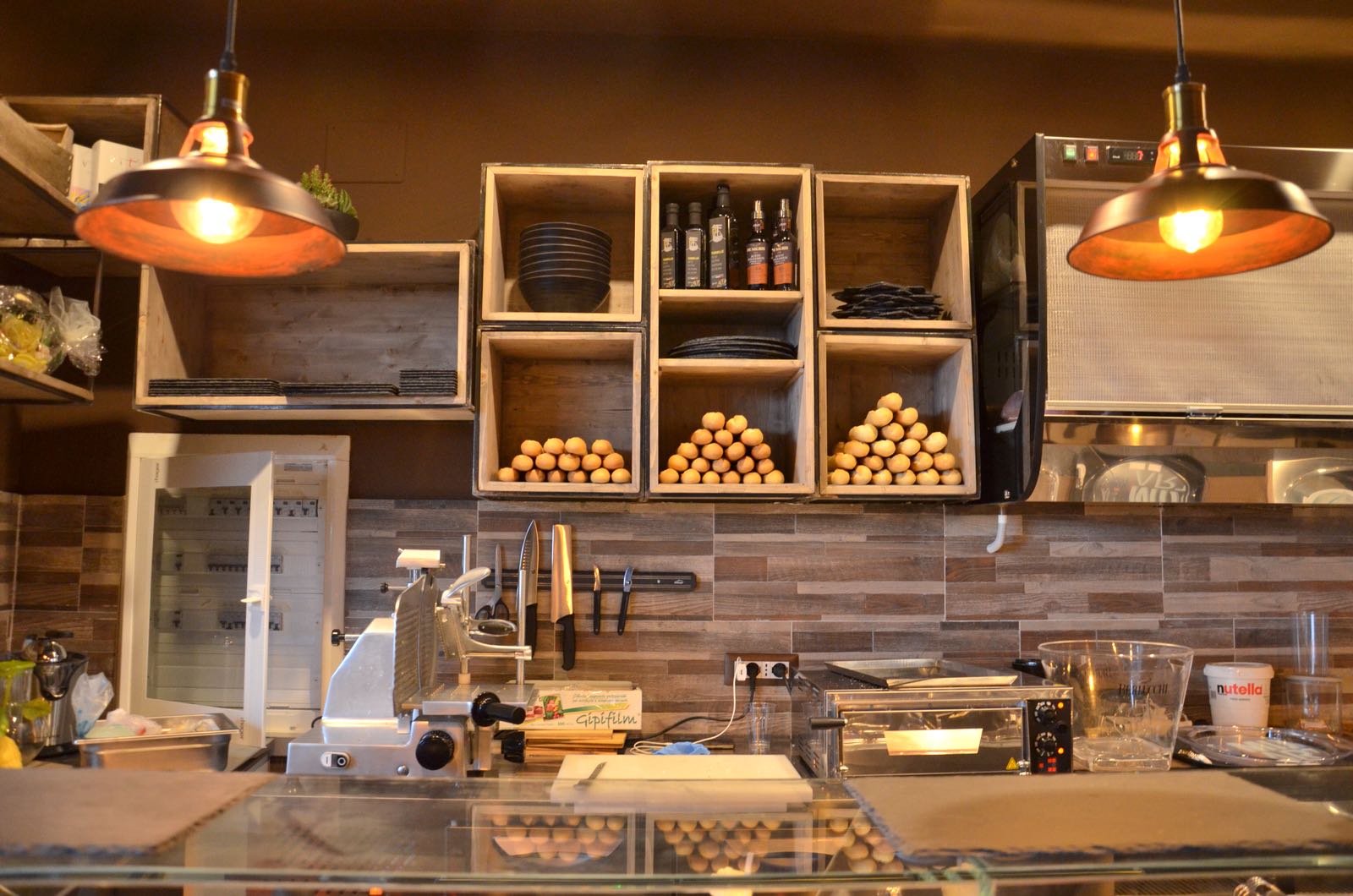 Mammato
Founded in 1890 just steps from the sea, the family-run restaurant is now in its fifth generation. Lucia is in the dining room, her son Francesco is in the kitchen, and Salvatore is at the counter. "We make traditional Mediterranean cuisine," Lucia Mammato, owner, tells us, "simple local dishes with local products, such as Piennolo tomatoes and the local catch. Frittura di esperanza, grilled fish with flag fish, or oily fish, are the most popular recipes prepared by the young chef.
"My mother Antoinette cooked here for almost fifty years, and my son learned directly from her. I also cooked for a time, but now I care for the dining room," Lucia continues. The season that has just begun marks the first menu built and written by Francesco.
Dishes to try include ravioli filled with burrata cheese with red date and basil, or scialatielli with zucchini pesto, guanciale, and provolone del Monaco, and a great classic, namely, scialtielli alla "Mammato" with shrimp, squid, mussels and clams. In addition to the restaurant, Mammato also offers an excellent pizza whose dough is leavened for 72 hours and then baked in a wood-fired oven.
Masaniello
The Cerchia brothers' adventure began about 13 years ago when they opened Masaniello on Corso Reginna. Born as a restaurant-pizzeria a year ago, they focused exclusively on cooking while concentrating on quality. "It was a well-thought-out choice. Our goal was to raise the bar and the level of our cuisine. We, therefore, revisited our dishes focusing everything on the quality of the products," says Vincenzo, chef for about eight years of the restaurant, now head of the dining room.
The menu includes only what nature has to offer seasonally. "We have ziti spezzati with broad beans, monkfish, bell pepper, and artichoke with cod." The tradition of the land is fundamental in any construction of a recipe. "We make risotto with black garlic anchovy colatura, oil, chili, and dried seaweed. And there is never a shortage of fresh fish provided to us by some local fisherman, with which we create dishes such as paccherò with gallinella di mare."
Even in winter, Vincenzo and his brother Pasquale, a chef, are always open, preparing everything from bread to desserts. "We test, experiment, and taste our creations, always looking for the balance of flavors. We composed a dish, linguine with urchins, pea cream, and caviar pearls. Initially, we noticed that the pea cream covered too much of the flavor of the urchins, so we made it less intense, and now it's perfect."
The tray of desserts, in addition to the great classics such as lemon delight and tiramisu, exhibits some innovations, including the cupcake with a warm citrus heart accompanied by fresh seasonal fruit.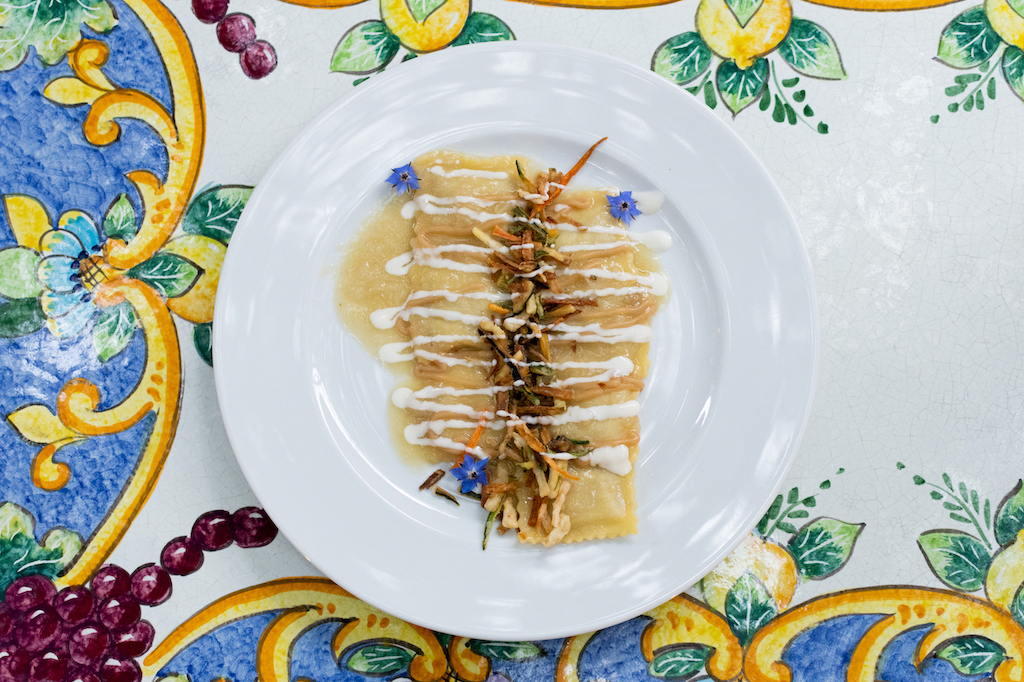 Pineta 1903
"It's grandma's cooking that surprises grandma," is how owner Carlo De Filippo explains the philosophy of his restaurant Pineta 1903. A philosophy well illustrated in the forthcoming book Bell'e Buono. "It is a journey that tells the restaurant's story with some recipes that have always distinguished our cuisine," De Filippo tells us.
A lemon garden under which several tables are arranged, a pasta factory, where all the pasta that makes up the dishes is produced, built in the inner part of the room are probably the two elements that mark the aesthetic identity of the restaurant. On the other hand, the kitchen's signature is the constant research and reinterpretation of traditional dishes.
"We brought back to life the birbone, one of the almost forgotten types of pasta in the culinary history of the Amalfi Coast. I did extensive research and experimentation to find the perfect composition of these double noodles made of whole wheat flour belonging to the history of the Minoresi pasta makers."
Seafood cuisine is illustrated on a menu with newspaper-like graphics. "The spaghetti allo scoglio certainly is one of our strong points, but we also have many novelties, including O'Genovese, ravioli with Neapolitan Genovese handmade in our pasta factory, or the Conventual, a ravioli with ricotta, pecorino cream cheese, anchovies in oil and walnut pesto with butter and mint with grated tuna roe and chopped walnuts from the Sorrento peninsula."
Creativity is also evident in the pairings. Some dishes go perfectly with cocktails. "I like to propose to my customers, along with the appetizers, also one of our cocktails such as an Amalfi spritz or a Mango Pa' Capa or Mango Po' Cazzo, both born from a joke that I explain well in my menu. They are two cocktails made with fresh mango pulp, with Passion Fruit and prosecco, to which ginger is added for the second."
With a strong entrepreneurial spirit, De Filippo has also created his craft beer, "Furore la Birra del Fiordo," that is ideally suited to the recipes prepared by chefs Milo Provino, chef of the Alliance of Chefs and Slow Food Presidia, and sous chef Gianluca Giordano.
Torre Normanna
The famous tower, erected between 1250 and 1300 as a strategic lookout point to scout the arrival of pirate ships from the south, now houses one of the area's most atmospheric restaurants. To reach it, one has to descend stone stairs and walk on a kind of pier that opens both left and right to the typical coastal landscape. With each step, it feels like retracing the ancient history of Divina.
Here The Proto brothers have established their fortress. "We bought the tower in 2007, and since this structure is a UNESCO heritage site, the maintenance work is subject to the Superintendence of Fine Arts of Salerno and Caserta," Massimo, chef, together with his brother Gino, also a chef, runs the kitchen, tells us. On the other hand, the dining room is managed by Daniele and Ivano.
Passionate seekers of local flavors and knowledge, the tasting menu varies daily based on the daily catch and available ingredients sourced directly from the family farm. "We make everything ourselves, from bread to breadsticks to pasta; we build our dishes from the ground up," Massimo continues. "Essenza di mare (tasting menu, ed.), for example, is always a surprise, while Tradizioni Amalfitane offers a series of fresh fish dishes such as scialatielli with shellfish seafood, and Piennolo cherry tomatoes, soft ricciola with escarole passata alle alici, and to finish a lemon delight.
Everything is served on one of the tables on a beautiful terrace overlooking the sea. In addition to important local, national, and international labels on the wine list, there are also labels produced by the Proto family in their Vigna Traversa. "Our philosophy is the contemporary tradition in which we try to create, and we do it with extreme passion and dedication because this work requires so much commitment, both physical and mental, monuments of taste where the recipes of the past are reborn through our interpretations."