From botanical gardens to rooftops, the most notable locations where to sip a cocktail while fully savoring the Amalfi Coast landscape.
September 7th, 2022, by Anna Volpicelli
---
There are many ways to enjoy an aperitif on the Amalfi Coast. From Positano to Ravello, we have selected some botanical gardens and rooftops that offer breathtaking views of the Amalfi Coast.
Bee Chic – The San Pietro in Positano
Bellini, the perfect aperitif and one of the most famous Italian cocktails, becomes a multi-sensory experience at San Pietro in Positano. It is both a tasting and a visual experience. The ingredients are simple, but at the famous hotel, it takes it to the next level: the welcome drink, and the best-selling signature cocktail, with a hundred cocktails, served every night.
Prepared with 70 percent prosecco and 30 percent fresh organic white peach pulp, it has a velvety, silky, sparkling texture that at the San Pietro is ensured by the bartender's flick of the wrist as he swirls the carafe in which it is prepared. Its enveloping pleasantness is the perfect companion to the exclusive dishes of Bee Chic, the unusual and innovative three-wheeled restaurant on Il San Pietro's large 423-square-meter terrace overlooking Positano, Li Galli, and the Faraglioni of Capri. An icon of Positano's beauty in the world.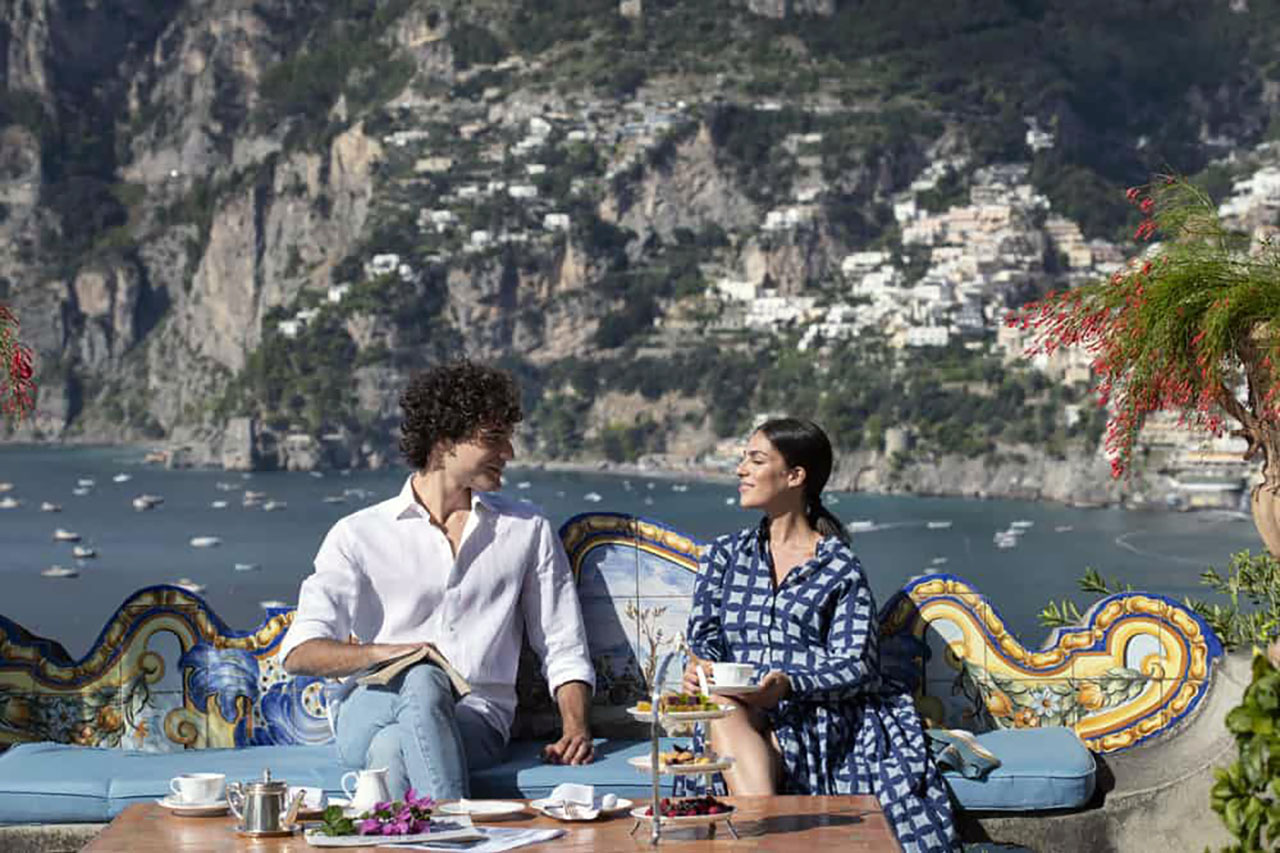 Franco's Bar
It is one of the symbols of Positano's glamourous life, the bar was born from the eclectic personality of Francesco Saverio dei Marchesi Serale, one of the co-founders of Le Sireneuse Hotel. It's a place where art blends with the beauty of the coastal landscape in which to sip a Bellini Margarita with Casamigos Blanco Tequila, Italcus, peach, and lime, or the cocktail dedicated to one of the Amalfi Coast's most traveled paths, The Path Of God with Tanquerey Ten Gin, basil, lemon, and champagne.
Voce e' Notte Grill and Sunset Bar
Since its opening in 2013, the bar at Hotel Le Fioriere in Praiano has always been the place for aperitifs. Indeed, from its terrace, it is possible to see Punta Campanella and the Faraglioni of Capri on clear evenings. Happy hour here is a sort of ritual where everything is taken care of down to the smallest details.
"We serve an Italian-style aperitivo with a wide range of bitters with which we create a series of classics including the americano, negroni, and spritz, but also tequila-based cocktails, which are in high demand in the hours before dinner and which we use with tomato, passion fruit and more," says Federico Ruocco, bar manager.
Accompanying the cocktails is a tasty offering of small tapas, including pizzetta alla montanara, a shrimp and vegetable tempura, and a platter, free of charge, with arancino, eggplant meatballs, or bruschetta.
La Moressa Italian Bistro
The large terrace at La Moressa Italian Bistró in Praiano offers a splendid panoramic sea view. It is one of the landmark aperitivo spots chosen by locals and worldwide travelers because of its location. The scenery pairs well with a glass of Bellini or a Lemon Spritz made from local lemons, cut with small delicacies, including pizza.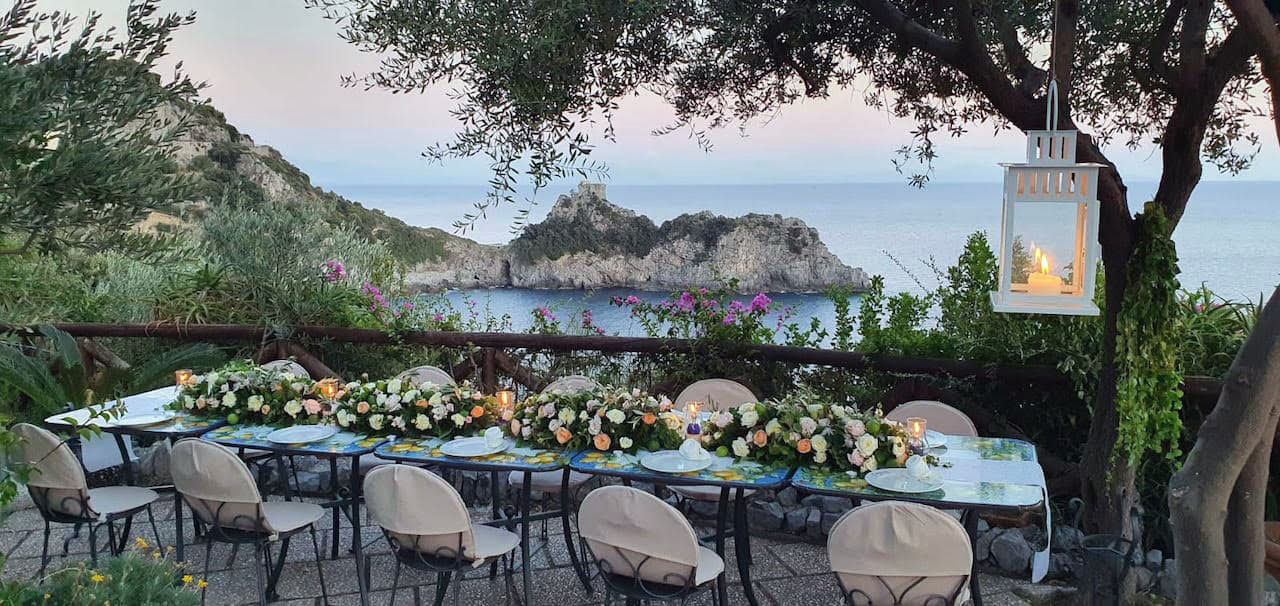 Hotel La Conca Azzurra
They serve aperitifs on the terrace and in the garden overlooking the sea, remaining consistent with the exceptional quality of taste and authenticity of the food offered. The panoramic terrace and the "Belvedere" garden offer spectacular views from Capo di Conca to the island of Capri.
The menu is exciting. You can choose from "fried pizza and champagne" croquettes with a glass of Asprinio di Aversa white wine, squash blossoms, prosecco, and sea and land fritters paired with Campari orange and mixed garden salad in tempura with Aperol spritz, Gin Lemon with fried potato.
Ravello Art Hotel Marmorata
Overlooking the sea, Ravello Art Hotel – La Marmorata offers aperitifs on its terrace. Their signature cocktails, such as the Lemon Delight (Stolichnaya Vodka, St. Germain, and Limoncello shaken with Amalfi lemon juice and topped with ginger beer), Passion and dreams (White Rhum, Triple sec, and Passoa shaken with passion fruit and crowned with champagne), Afternoon Flavor (Tanqueray gin, Cointreau shaken with our lemon juice and organic jam) are paired with Montanarine with date cream and Parmigiano Reggiano mousse or burrata with red shrimp, eggplant mini parmesan.
Caruso, a Belmond Hotel
Let's Caruso together is Caruso, a Belmond Hotel's daily happy hour. Starting at 7 p.m., on a cliff 1,000 feet above sea level, life gets easier while enjoying a drink from Tommaso, head bartender, paired with canapés prepared by the executive chef inside this former 11th-century palace.
The canapé menu changes daily and is all made with local ingredients that accompany an exciting list of cocktails, including the Negroni Coast to Coast and wines. The daily event occurs at Bar Il Loggia and in the colorful and sophisticated garden that offers beautiful mountains and sea views.