In Valentino Esposito's boutique laboratory, local lemons, citrus fruits, and pears become tasty jams.
June 14th, 2023. By Francesca Faratro, photo by Vito Fusco
---
Surrounded by citrus plants, a picture-postcard landscape, and the sea of the Amalfi Coast, Valentino Esposito is the lord of jams. He makes them at his Valentì in Positano store, and in his sweet adventure, he is not alone. Helping him, sharing this unique profession, is his wife, Gesualda.
Surrounded by the scent of oranges and orange blossoms that bloom according to the season, they give life to great products, among which limoncello and liqueurs take center stage. However, one product succeeds them better than others, which is so good that it has received numerous approvals and achieved great success from those who have tried it. It is lemon marmalade, a delicious dip with a distinct sweetness muted by the citrus fruit's acidity and unmistakable flavor.
Sweet enough
Valentino makes it under the watchful eyes of the guests who pass by his store as he does during every event or demonstration he attends. He makes it by letting citrus fruits and sugar cook slowly, which are then expertly mixed, giving the proper density.
"Jam is my trump card. I make it by profession, but when I make it, I am aware that I transmit the right amount of passion to the product every time. Sweet enough, with an unmistakable flavor capable of encapsulating the taste of my land, I embellish it with pieces and peels of fruit to ensure a texture that should be savored to the full."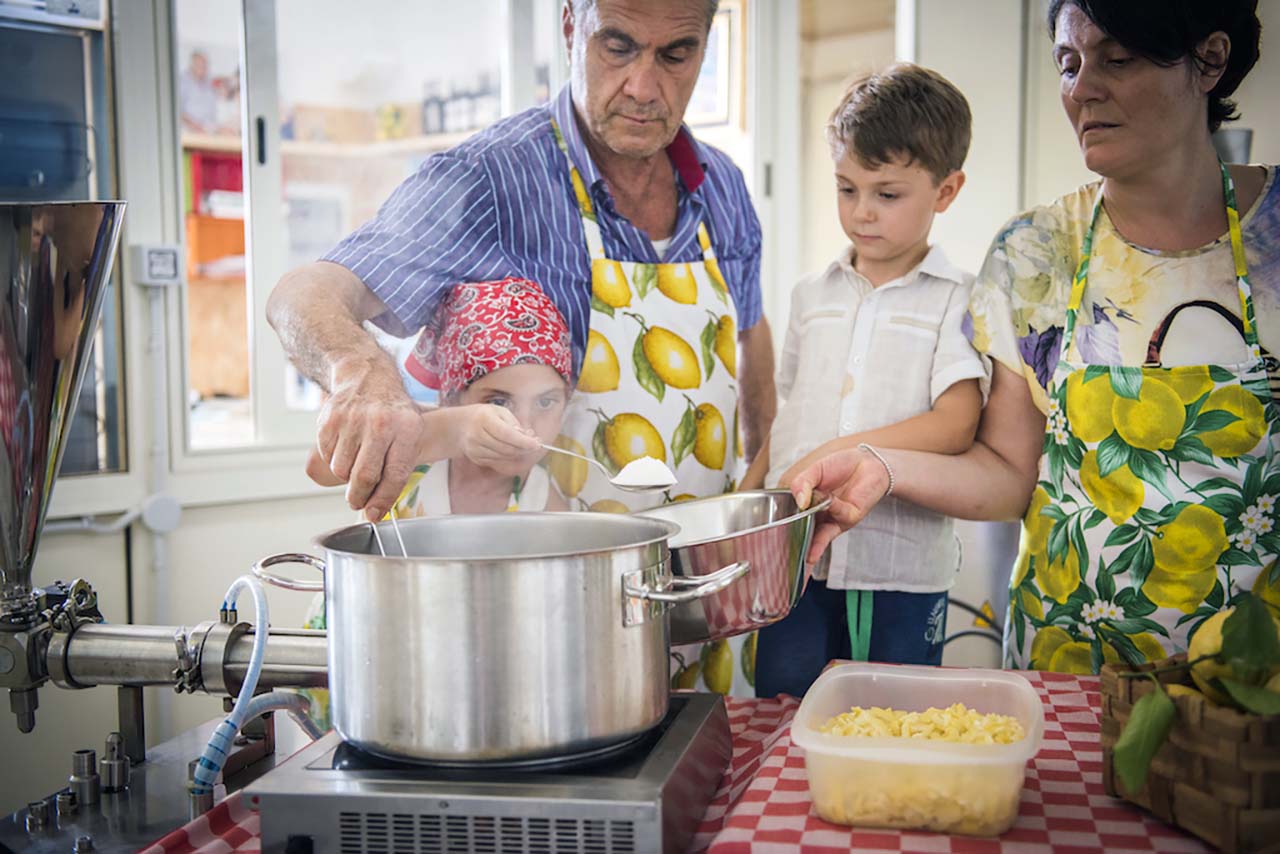 In a professional manner
And Valentino knows the recipe to perfection, which has become not only his but shared with the many who ask him for it and who refine the process by observing its preparation steps in such a way that it is made to perfection.
"Love for the product is the secret to achieving it at its best. Added to this is the quality of the used products: they must be the best and first-rate. Without these, the flavor would not be as good. When I prepare it, although there have been many years of witnessing this precious process, it is always as if it were the first time. Kind of like I am making jam for my children's snack or breakfast. I make it with love and patience, waiting just the right amount of time to bring to life a taste that tickles the palate and makes everyone become a child again. When I make the jam to taste, I like to imagine that I am taking my guests back in time to that precise moment when on the table, it was the mom who prepared the bread that, once consumed, left you licking your fingers still sprinkled with the last drops left stuck between your hands."
Maternal legacy
In her Valentì, the new workshop with adjoining store-wide is the choice of products, but jams fill the shelves in their jars, making a fine display and papering the walls.
"My mother used to make a lot of jams. She would alternate them with pickles in oil, such as tuna and vegetables, and so she would fill the pantry that would feed the family in colder times like winter. He would also salt anchovies. My fisherman father had an anchovy salting workshop during World War II. My mom's industriousness sparked my passion while the hours I spent observing her formed me and let me glean the secrets. Later I met Adriano Paolini and his wife Luciana, two people from Vietri sul Mare, experts in citrus jams. Thanks to their teachings, I refined my techniques and started making jams for a wider audience, different from the usual ones limited to the household."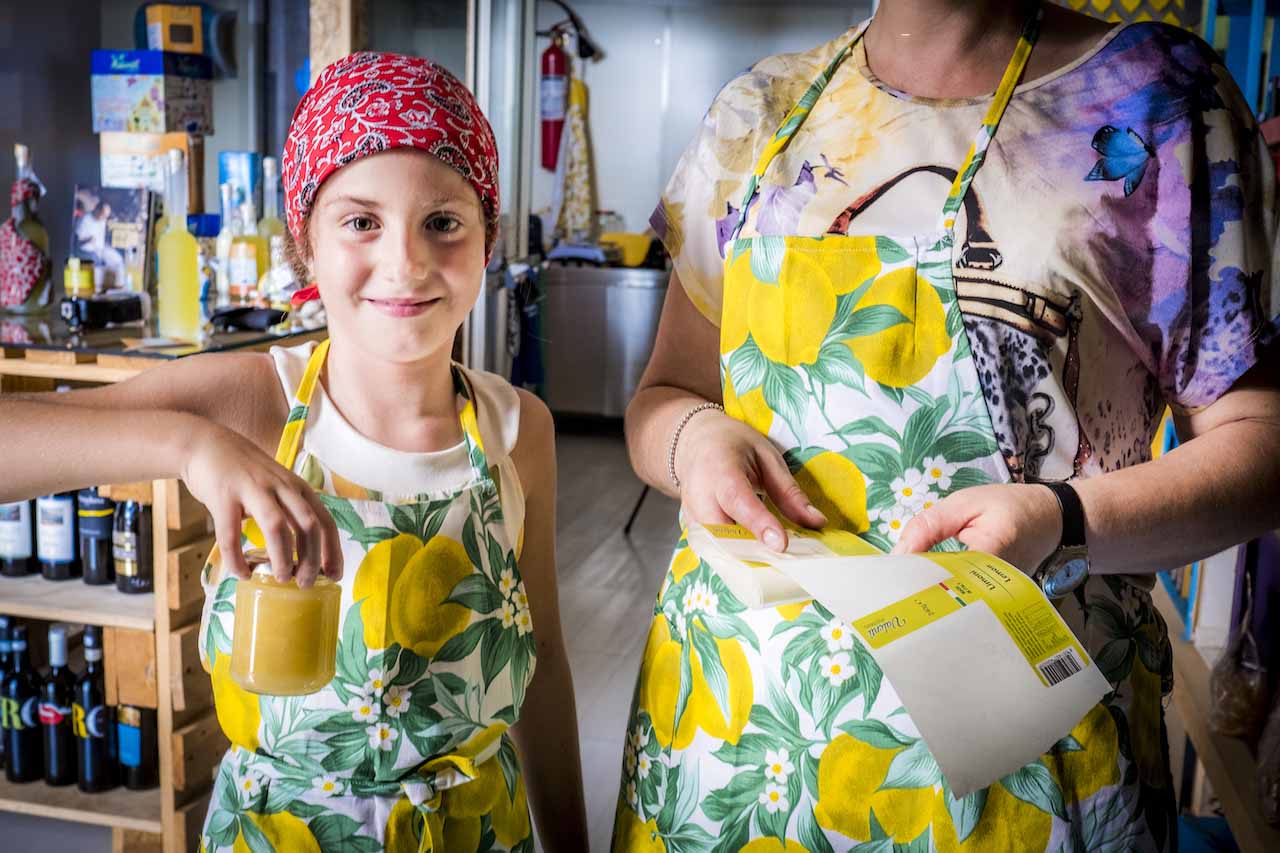 Delicious variants
Triumphant among Valentino's jams are those in which citrus fruits excel, such as the one with Sfusato amalfitano lemon. Then follows the one with Pennata pear from Agerola, sweet apricots from Vesuvius, or figs from Praiano.
"We like to use only fruit from our territorial areas. Products pervaded with sunshine and rich in a flavor that already succeeds in winning." And the research for products is fundamental and precise. It requires mastery in recognizing the best-starting ingredients and scouting them out among terraces and producers who meet the requirements of good cultivation. "My wife and I love to work together. Only then does the work dampen, becoming less tiring. We often let our children help us: 11-year-old Valentina and 8-year-old Andrea. We want them to be the first to witness our art and pass on our knowledge through their hands, minds, and futures by making it available to the world."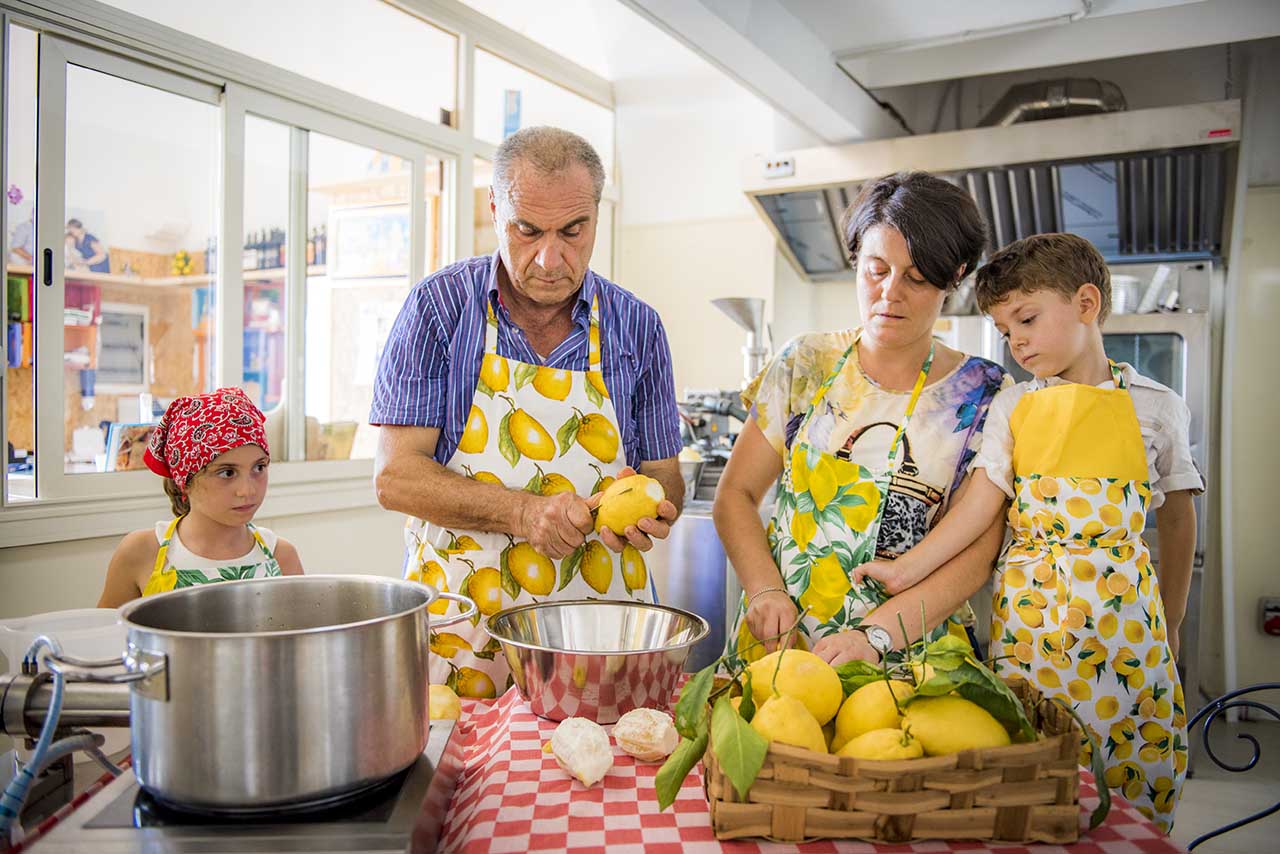 Salty Touch
Together they prepare about forty kinds of jams and preserves, using combinations that are simple or, at times, thought unthinkable. The classics are joined by spicy ones made with orange, lemon, or tangerine. There is the kumquat one or the sought-after citrus trio with orange, lemon, and tangerine. There is no shortage of fruit jams such as cherry, plum, black cherry, red fruits, peach, or strawberry. Also worth tasting are those with green tomatoes, bell pepper, or onion, ideal to accompany aged cheeses or served with savory dishes—the tasty candied citrus peels round out the wide range of products made only by hand.
"I find them so good that they can even be eaten on their own, straight from the jar," he smiles. "It is a versatile product that adapts to different needs. Ideal for breakfast, to be spread on bread or toast or directly in white yogurt. Also perfect for filling tarts, croissants, topping cookies, flavoring creams, and filling panettone. In the savory version, they can accompany cheeses and fresh ricotta." Among other combinations, lemon marmalade is also used in tiramisu for a delicious and delicate version of cocktails such as spritzes.