Praiano is one of the privileged places on the coast outside the mass tourism circuit. 
Although it lies on the main stretch of the Amalfi Coast, between Amalfi and Positano, thanks to its location, divided into a part to the east, Praiano, and a part to the west, known as Vettica, the village has been able to guard and preserve its distinctive authenticity. Walking through its streets, it is easy to run into some local older people, ready to offer food.
"Pelagianum," meaning open sea
Praiano derives from the Greek "Pelagianum," meaning open sea. The panorama that can be enjoyed from every corner of this resort unravels from the Bay of Positano to Li Galli to Punta Campanella and Capri. Walking through the narrow streets and up the long flights of steps surrounded by a parade of pastel-hued houses, one encounters the famous votive shrines decorated in majolica. These are small altars enclosing images of saints and the Virgin Mary built by families as a request for protection and blessing.
Majolica tiles, an unmistakable sign of the entire Amalfi Coast, with their patterns and colors, are one of the main decorations that furnish the exteriors and interiors of every public and private space. They are visible on the signs of houses and arranged on the various paths leading to the Monastery of San Domenico, located at an elevated point in the Vallata di Campo.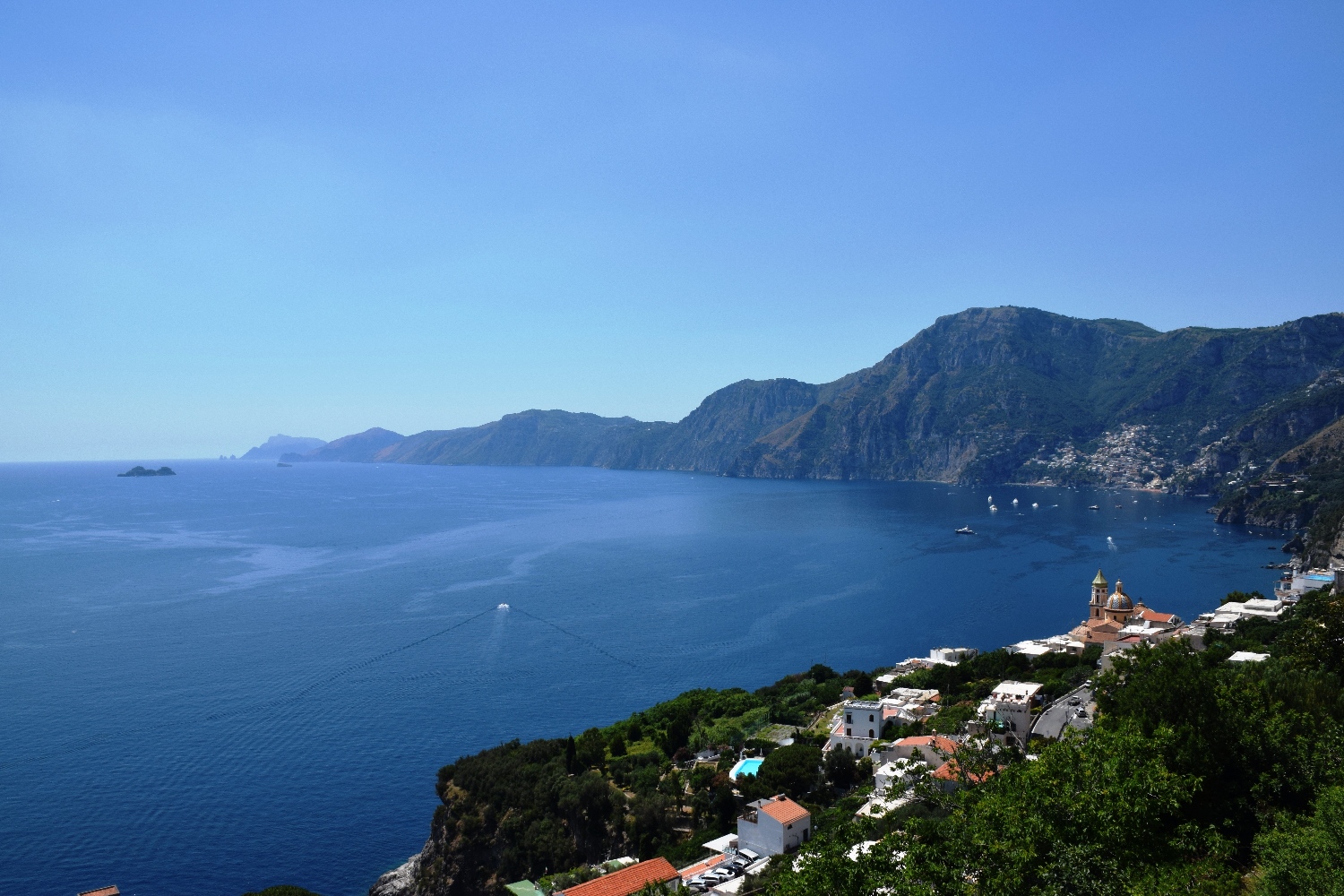 Church of San Gennaro of Praiano
The beating heart of the village's religious life is the Church of San Gennaro, whose dome, a mosaic of colorful majolica tiles, stands out against the sky and whose forecourt is akin to a large panoramic terrace that opens onto the Gulf of Salerno. 
Like every village on the Amalfi Coast, Praiano is also a destination for urban trekking. In this regard, NaturArte was created in 2016, a project that includes eight itineraries that combine the beauty of nature with that of art. Eight artists, and famous local potters, adorned the alleys and streets of the routes with 150 sculptures made of ceramics and stone. 
It is a set of works related to local culture, traditions, and mythology in continuous dialogue with the surrounding environment. Strolling along, one reaches the Church of Santa Maria, a Castro, which stands on a striking point on the mountain at 364 m.a.s.l. Continuing from this vantage point, one arrives at the Monastery of San Domenico, a must-see destination for watching the sunset.
---
Tourist Information Office Amalfi Coast Tourist District

via G. Capriglione, 116 B 
84010 Praiano [Salerno, Italy]
Opening hours until April 30th from Monday to Saturday (Sundays and holidays closed) 9.30 am : 1.30 pm | 4.30 pm : 8.30 pm 
Opening hours from 1st May to 30th September from Monday to Saturday (Sundays and holidays closed) 9.00 am : 1.00 pm | 5.00 pm : 9.00 pm
Tourist Information Manager
Rosalba Irace
infopoint@distrettocostadamalfi.it  |  +39 089 874557 – +39 342 0602674
---
Map of Praiano on Amalfi Coast